By Jorge Casuso
December 18, 2017 -- With more and more shoppers opting to click on their holiday purchases, Santa Monica's downtown is banking on offering those things you can't get at home.
The usual holiday offerings are back -- the Christmas tree, ice rink and, especially, the deep discounts -- but new and hipper holiday features have a new place, as do pop-up stores that generate buzz with special events.
Last Tuesday, Taylor Swift unveiled her interactive album experience at the Reputation Pop-Up on the Third Street Promenade, which ran through Saturday.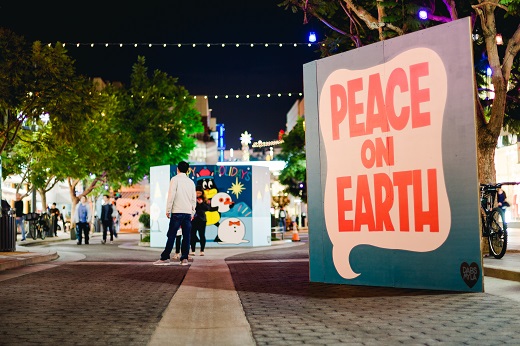 DABSMYLA holiday art installation on the Promenade (Photos courtesy DTSM)
And through the end of the year, the Promenade is showcasing a three-block "pop-up art-work" by the LA-based Australian art duo DABSMYLA that populates the strip with "a whimsical cast" of holiday characters and interactive installations, Downtown officials said.
The art installation is "more unique and different that what you see in other areas," said Kevin Herrera, senior marketing and communication manager for Downtown Santa Monica, Inc., the agency that oversees and promotes the beach city's central business district.
"You have to do more fun and interesting things to bring people out here," Herrera said. "You can't just have the specials and sales everybody else does."
This year, Black Friday -- which featured special discounts and promotions -- had 75 percent more pedestrian impressions than the Friday before Thanksgiving, making it the busiest day of the year, Herrera said.
Still, the foot traffic was 6 percent lower than on Black Friday last year and 1 percent lower than on Black Friday 2015, he said.
That, said DTSM's retail consultant Robert York, could be in part due to a growing trend that stretches the holiday shopping period.
"Shopping patterns have been evolving," York said. "Black Friday is still important, but it's spread out more throughout the season.
"People shop late in the season, and even into January," he said. "People use gift cards, and that makes an impact."
According to the National Retail Federation, gift cards are the most-requested presents for the 11th year in a row, with 61 percent of the more than 7,000 people surveyed saying they were asking for the cards this year.
But gift cards or not, retailers must offer more than deep discounts to lure customers away from their computers and into brick-and-mortar shops, York said.
"Stores must be willing to offer more than merchandise at a certain price," he said. "They must offer better service and options to optimize by offering something unique you have to go to the store to get."
More stores are also encouraging shoppers to stop in and pick up merchandise they purchase online so "they can try it on," York said.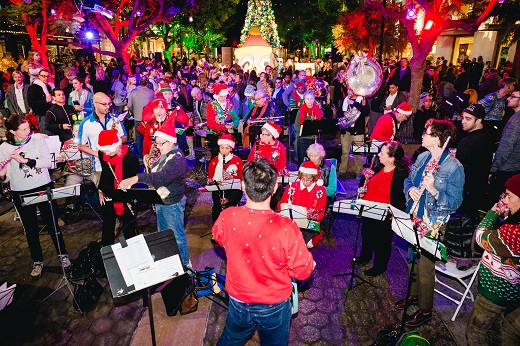 Santa Monica College's Emertitus College band
Sharmila C. Chatterjee, academic head for the enterprise management track at the MIT Sloan School of Management, said retailers don't need to pander to bargain hunters during what is proving to be healthy economic times.
"Sure, some holiday shoppers may be lured to the shops in search of a great deal, but if that's what they're looking for, they can easily go online," Chatterjee wrote in an opinion piece that ran Friday in Fortune Magazine.
"Brick-and-mortar stores cannot match the price-comparing capabilities the Internet offers," she said. "Instead of competing on price, stores should invest to entice customers.
"By focusing on their core competencies -- one-on-one, human-to-human customer service, sensory-stimulating in-store experiences, and promise of instant gratification -- traditional stores have an opportunity to excel where websites falter."
Central business districts like Santa Monica's Downtown can also lure customers by offering more than shopping options, York said.
Customers are drawn by the Promenade's bustling, colorful scene that features unique artworks, street performers and plenty of dining options.
"A good in-person experience is really a draw," York said. "You can't eat online."