By Niki Cervantes
Staff Writer
December 12, 2017 -- Santa and Mrs. Claus landed at Santa Monica Airport Sunday for a cheery quick pre-Christmas visit, bearing small gifts for those on his "nice" list but a warning for the City Council.
The Council is on his "naughty" list for preparing to close SMO for two weeks over the holiday while shortening its runway (to reduce the number of large jets) and then shuttering the airport permanently to air traffic at the end of 2028.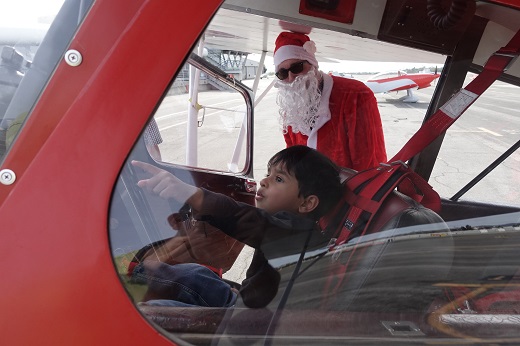 Boy checks out Santa's plane at Santa Monica Airport (Photos courtesy Santa Monica Airport Association)
Hosted by the anti-closure Santa Monica Airport Association (SMAA), Santa arrived at SMO via a small red and white propeller airplane, a visit meant to reinforce, in a playful way, the continuing fight by pilots and others against closing the 227-acre municipal airport, the association said.
"Where will Santa land with all his reindeer, sleigh and presents for all the children?" Santa asked after touching down.
In a ceremony, families and children who were on hand for the visit received small gifts of pilot wings and toy airplanes. Santa got a cookie and card from children in the crowd.
Santa scolded the City Council in Santa Monica for approving the closure of SMO to air traffic from December 13 until December 23.

The shortening of the runway is being undertaken as an interim step the City hopes will reduce jets -- the major source of complaints from neighborhoods in Santa Monica and West Los Angeles.
In a media release, SMAA said "Santa was very upset when he heard the news that City Council wishes to close the SMO airport completely at the end of 2028."
The runway project's first phase started on October 23 and was to last until December 13, with work done nightly from 9 p.m. to 7 a.m., Monday through Friday.
Phase Two is to then begin on December 13 and conclude December 23, a period when all aircraft are barred day or night.
SMO is primarily used by leisure pilots. But people in the densely populated Santa Monica and West Los Angeles neighborhoods fought for decades to shutter it –- especially with the soaring increase of jets.
A consent decree between the federal government and the council in late January cleared the path to SMO's eventual closure, and the shortening of its runway in the interim ("City, FAA Agree to Close Santa Monica Airport in 2028," January 28, 2017).
But SMO supporters continue to campaign (including litigation) to save it, calling it a valuable relief valve for busy Los Angeles International Airport ("Aviation Industry Accuses FAA of 'Trickery' in Santa Monica Airport Closure Deal," August 17, 2017).

Last week, the SMAA highlighted the airport's role in the wildfires which had erupted throughout the Southland, noting its tower staff had coordinated more than 50 fire-related flights ("Santa Monica Airport Tower Plays 'Critical' Role in Fire Fighting Efforts, Aviation Group Says," December 8, 2017).
The association has staged 12 events this year to "demonstrate the value of Santa Monica Airport," said Dave Hopkins, the group's vice president.
They have included the popular Kids and Airplanes event that drew more than 100 people, and Helicopter Day, which displays helicopters from area public safety agencies, he said.