By Jorge Casuso
December 11, 2017 -- A picture of Dustin Hoffman taken in Santa Monica more than a decade ago gained a new context amid recent allegations of sexual harassment leveled against the Academy-award-winning actor.
The picture was taken during a 2005 ceremonial groundbreaking for Santa Monica College's Madison Campus, a state-of-the-art performing arts facility that houses The Broad Stage ("Madison Theater Breaks Ground," January 20, 2005).
Hoffman, who had attended SMC in the 1950s, was chair of the Madison Capital Campaign and had improvised a rousing 20-minute monologue before the picture was taken by The Lookout shortly after dignitaries broke ground.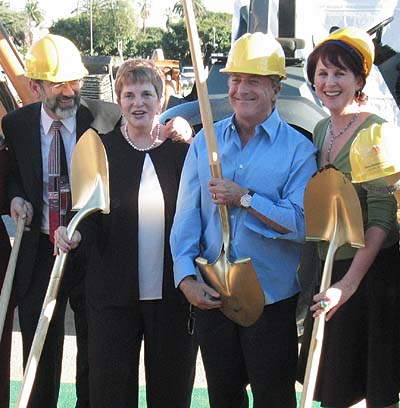 Actor Dustin Hoffman ar 2005 Madison Campus groundbreaking (Photo by Jorge Casuso)
In the picture, Hoffman holds the shovel against his pelvis and flashes a mischievous smile.
Several readers at the time noted the phallic connotations.
Since November, three women have accused Hoffman of sexual harassment dating back to the early 1980s.
On November 1, Anna Graham Hunter wrote in an op-ed piece published by The Hollywood Reporter that Hoffman had sexually harassed her during the filming of the "Death of a Salesman" TV movie when she was a 17-year-old intern.

Hoffman responded, "I have the utmost respect for women and feel terrible that anything I might have done could have put her in an uncomfortable situation. I am sorry. It is not reflective of who I am."
Also last month, producer and playwright Wendy Riss Gatsiounis told Variety that Hoffman had sexually harassed her in 1991 when she was in her 20s.
The latest allegation came Friday, when a third woman, Kathryn Rossetter, published a lengthy guest column in The Hollywood Reporter accusing Hoffman of groping her "night after night" off stage during the 1983 Broadway production of "Death of a Salesman."

Rossetter, who played Hoffman's mistress in the play, said the actor repeatedly groped her breasts, put his hand up her slip while he was on stage and humiliated her in front of the stage hands.
Hoffman is the latest in the list of famous and powerful men who have been accused of sexual harassment in the wake of a New York Times report that brought down legendary film producer Harvey Weinstien.
The allegations have opened a wide-ranging debate about the sexual abuse of women in the workplace by men in positions of power and trust.
It also has raised questions about whether some of the claims comprise sexual abuse or reflect a misunderstanding between the sexes of what constitutes sexual harassment.
The issue was raised a quarter century ago by Judge Alex Kozinski of the U.S. Court of Appeals for the 9th Circuit, who has recently been accused by six women of subjecting them to inappropriate sexual conduct or comments, including showing them pornography on his computer screen.
In 1992 Kozinski wrote that men "must be aware of the boundaries of propriety and learn to stay well within them," while women "must be vigilant of their rights, but must also have some forgiveness for human foibles: misplaced humor, misunderstanding, or just plain stupidity."
Sexual harassment, he concluded according to the Washington Post, "was the best-kept secret of modern times."