By Niki Cervantes
Staff Writer
August 31, 2017 -- A nine-year-old Santa Monica boy received a police award Wednesday for bravery in the face of danger after secretly witnessing a burglar grab a purse and cell phone from his grandmother's house, and then pointing the way to a successful chase by nearby construction workers.
Royal Blues Rumph received a Citizen Involvement Award from Santa Monica Police Chief Jacqueline Seabrooks during local ceremonies for police promotions and the handing out of awards.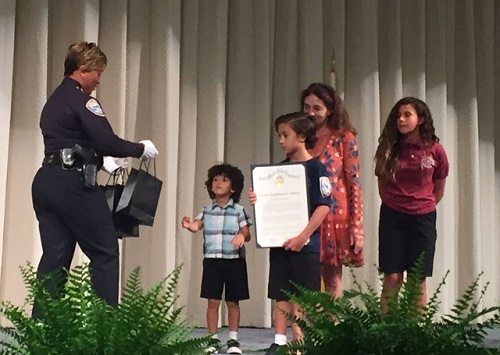 Police Chief Jacqueline Seabrooks presents Royce Rumph with bravery award (Photo courtesy City of Santa Monica)
SMPD Lt. Saul Rodriquez said Rumph received the award for demonstrating "bravery in the face of danger."
The incident occurred in mid-afternoon on April 13, after Rumph took a break from helping his grandmother fix a unit in her rental property and momentarily went inside alone.

By 3:05 p.m., police were responding to a call for help due to a "hot prowl" in the area of 100 Hollister Avenue.
Inside his grandmother's unit, Rumph had looked at the surveillance feed, realized something was amiss and then witnessed, unobserved, "the suspect enter through the front door," the police report said.
"The suspect grabbed a purse and cellular telephone belonging to the witnesses' grandmother. The suspect exited the house out the front door," police said.
Rumph ran back outside and told his grandmother what had just happened, the police report said.
Construction workers on the site gave chase after the boy pointed out the fleeing man, who was then at Nielson Way and Strand Street, police said.
"The construction workers confronted the suspect at the intersection of 3rd Street and Pacific Street," the report said. "Officers responded to the location and were able to detain the suspect. The suspect was positively identified by the victim and witness.
"The property taken from the residence was recovered from the suspect," police said.
The suspect, a Los Angeles man, was taken into custody and subsequently charged with burglary and grand theft.
Rumph earned another type of award after police had taken the suspect in custody, Rodriquez said.
One of the officer's involved treated him to a bowl of mint chocolate chip ice cream.
Rumph showed courage and clarity of thinking "vital" to police catching the suspect, Rodriquez said. "There was no question he should be the recipient of this award."