By Lookout Staff
August 30, 2017 -- Named after a Christian saint, the city of Santa Monica claims more than a dozen historic places of worship that will be featured in an upcoming architectural tour, the Santa Monica Conservancy announced last week.
The Conservancy's Sacred Places tour -- which takes place on Saturday, October 7, from 1 to 5 p.m. -- visits 15 sites across the 8.4-square-mile city "selected for their historical significance and cultural diversity," Conservancy officials said.
"Sacred Places will explore the architectural beauty, history and culture of churches, chapels and a synagogue," organizers said of the annual architectural tour.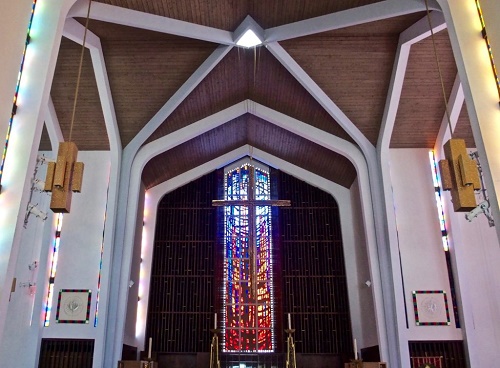 Saint Augustine By-the-Sea (Photo by Judy Raffel)
Among the featured sites are First United Methodist and First Presbyterian churches, which were established the same year the city was founded in 1875 "as small wooden chapels downtown and later evolved into major modern architectural landmarks," tour organizers said.
The tour will also visit Saint Augustine By-the-Sea, which "rose from the ashes of a disastrous fire in 1966 that destroyed the original 1887 wooden church," and the St. Peter and St. Paul Coptic Orthodox Church, which "offers a glimpse into ancient Eastern Orthodox traditions."
Also featured on the tour is Santa Monica's oldest African-American church, Phillips Chapel, founded in 1906 and remodeled in the 1940s to include commemorative stained glass windows.
Two churches with predominantly Latino congregations are also on the tour -- St. Anne, founded in 1908, and Iglesia el Sermon del Monte, which meets in a 1919 building "with magnificent stained glass windows," organizers said.
The self-driving or biking tour offers several designated check-in locations featured in the tour. Visitors will be provided a map and a detailed brochure.
Tickets -- which cost $25 for members and $30 for non-members -- can be purchased online or by sending a check to P.O. Box 653, Santa Monica, CA 90406.