By Niki Cervantes
Staff Writer
August 22, 2017 -- Some viewers were thoroughly prepared, and others dashed frantically outdoors at the last minute, praying someone would share their goofy yet cool "eclipse-safe" eye-glasses or homemade viewing gizmos.
And then came the breath-taking moment in Santa Monica and the rest of the Continental U.S. when the Great American Eclipse made its first move and the moon began to slip over the disk of the sun.
At Virginia Avenue Park, more than 300 people gathered for the once-in-a-lifetime event, City officials said. Many wore some of the 1,000 special NASA glasses the Santa Monica Public Library handed out at the Pico branch on August 14 and again on Monday morning.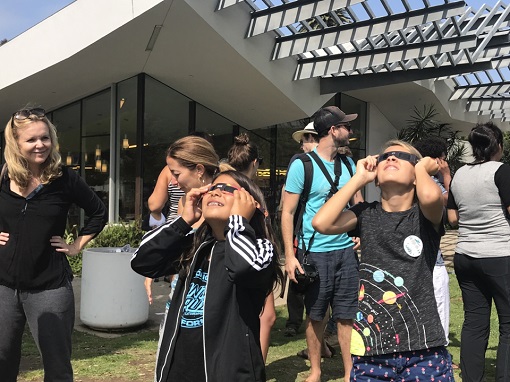 Children watching eclipse Monday morning at Virginia Avenue Park (Photos courtesy of City of Santa Monica)
Those who had a pair shared it with others, and they shared the special homemade versions made of cereal boxes and other odds and ends, said Constance Farrell, the City's Public Information officer.
"It was so much fun to see people of all ages together on a blanket on the lawn," Farrell said. "It was just really festive and fun. There was a lot of excitement. I can't think of a better way to experience it."
Like much of the rest of the country, Santa Monica witnessed only a partial eclipse. But it was enough to create an overwhelming moment for the many who observed the sun temporarily transformed into what looked very much like a glimmering crescent moon.
"You feel very small," said Grace Smith, a public information officer for Santa Monica College who caught the partial solar eclipse in the nick of time as she and a co-worker (who had eclipse-approved eyewear) ran out of the office slightly after 10 a.m.
About 20 of them ended up out there, jockeying for time with the special eclipse eye glasses, and all of them still awestruck by the celestial rarity, Smith said, as they finally trudged back inside.
"We were aglow," she said.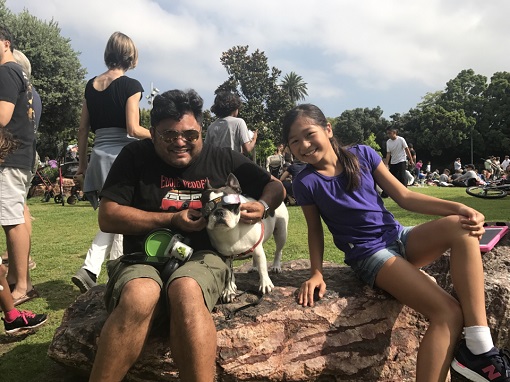 Dog wearing eclipse-watching glasses
It was a descriptor used often on Monday as Santa Monica became part of the Great American Eclipse, so-named because it was the first time since June 8 of 1918 a solar eclipse was witnessed from the American West Coast to its eastern counterpart.
Scientists also said it was the first time since January 11, 1880, that a total solar eclipse occurred exclusively over the continental United States. No other country will experience totality, they said, though many countries saw the partial eclipse.
The total eclipse made landfall at about 10:15 a.m. Pacific Time on the Oregon Coast, sped East at 2,100 miles per hour on a path of 3,000 miles through Idaho, Wyoming, Nebraska, Kansas, Missouri, Illinois, Kentucky, Tennessee, Georgia and North Carolina.
It disappeared off the coast of Charleston, South Carolina, at 2:49 p.m. Eastern time, officials said, after turning sunny afternoons dark and bringing in a sudden chill.
The event also prompted choruses of buzzing from bewildered cicadas (which thought it was night) and reportedly flustered sea gulls into calling out.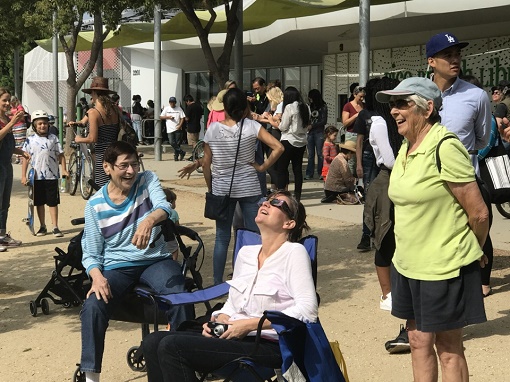 Eclipse viewer with one of the 1,000 NASA glasses handed out by the Santa Monica Library
Hundreds of people flocked to the lawn of the Griffith Observatory in Los Angeles for a glimpse of the moon overtaking the sun, and in Santa Monica's Virginia Park, hundreds more donned the necessary protective eyewear -- handed out at the Pico Branch Library (using NASA grant money) -- for the sight.
Mayor Ted Winterer said he and his family were at Virginia Park, part of the "oohing and ahhing" of the crowd over this "rare celestial event."
Watching "people sharing eclipse glasses and homemade pinhole cameras with others who weren't as prepared for viewing the sun made the gathering at Virginia Avenue Park an especially festive communal event."
UCLA also hosted an eclipse-watching event at the Court of Sciences at its Westwood campus, complete with telescopes with solar filters revealing details of the solar surface and an image of the sun projected on a white screen, allowing visitors to take pictures, officials said.