By Jorge Casuso
July 28, 2017 -- L.A.-based chanteuse, songwriter and accordionist Jessica Fichot will showcase her fusion of styles from a bygone era this Sunday during Santa Monica's 12th Annual Jazz on the Lawn summer concert series.
Fichot, who performs from 5 to 7 p.m. at Gandara Park (formerly Stewart Street Park) will "take the audience on a twisting journey out of the French chanson tradition and into the lands of gypsy jazz, 1940s Chinese swing and international folk," concert organizers said.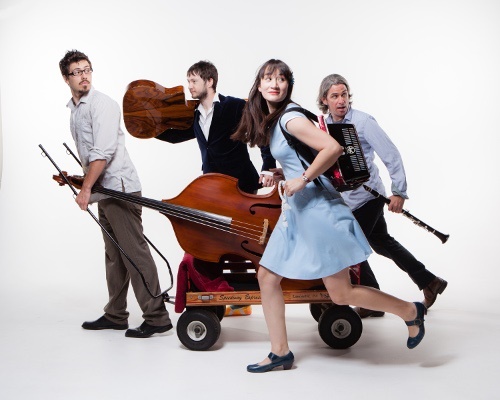 Jessica Fihot and her band (Photo by Andy Sheng)
Accompanying herself on accordion or toy piano, Fichot often sings in half a dozen languages during her performances, which feature her band -- clarinetist-saxophonist Alex Budman, guitarist Adrien Prévost, bassist Ippei Ichimaru and drummer Greg Desgouttes.
Born in New York to a French mother and Chinese father, Fichot has tapped her ethnic roots to concoct a hybrid, cosmopolitan sound that evokes music once played at speakeasies and on old Victrolas.
Her 2007 album, "Le Chemin," is mostly sung in French, while her 2014 album "Dear Shanghai" taps the swing style popular in Imperialist China during the 1930s and 40s.
Both albums, she has said, may have been influenced by gypsy jazz and other pop styles from the era between two world wars.
The LA Times called Fichot's music "a glittering testament to L.A.'s multiculturalism" and wrote that she "brings an art-song sensibility to delightfully catchy tunes."
Sunday's concert features food to purchase from The Lobos Truck, Tacos del Valle and Ridges Churro Bar.
Gandara Park -- which includes a children's playground, restrooms and accessible parking -- is an eight-minute walk from the 26th Street/Bergamot Expo Line Station and served by the Big Blue Bus Route 5 on Olympic Boulevard.
The Gandara Park lot offers free parking as well free bike valet starting at 4 p.m. Free parking also is available after 3:30 p.m. in the nearby Agensys parking lot at 1800 Stewart Street.
The Jazz on the Lawn concert series is presented by the City of Santa Monica's Cultural Affairs Division with in-kind support provided by Agensys, Inc.
For more information in the series, visit smgov.net/jazz