By Niki Cervantes
Staff Writer
August 16, 2017 -- A six-floor affordable housing complex for senior citizens in downtown Santa Monica could soon be heading toward construction after years of legal wrangling and other issues.
The 26,390-square foot building is slated for a less than one-acre site at 1437 5th Street between Santa Monica Boulevard and Broadway, according to City planners. The site is currently used as a parking lot.
All of the building's 43 units will be for senior citizens, designated as affordable and anchored by a lobby and 1,001 square-feet of neighborhood commercial tenant space, City planners said.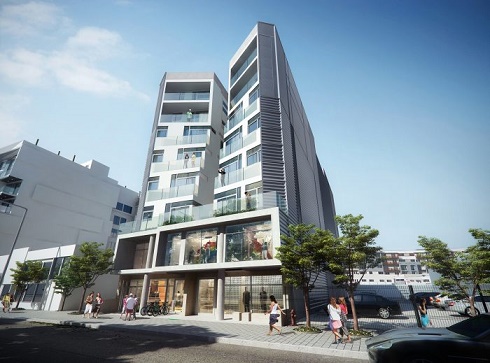 Rendering of proposed senior housing project at 1437 5th Street ( Courtesy of Michael W. Folonis Architects)
Its design -- a style the City calls Contemporary/Modern -- is "appropriate in scale, massing, and furthers the goals of making 5th Street in Downtown Santa Monica a more pedestrian-oriented street," a staff report to the City's Architectural Review Board said.
The ARB continued a hearing from its August 8 meeting to a future date.
The project, designed by Michael W. Folonis Architects, creates a small plaza in the front of building entries, which contributes to a more inviting feeling for the street, planners said.
It is a "unique concept," the report said.
Owned by WNMS Properties, the project includes about two dozen SRO (or Single Room Occupancy) units, one one-bedroom apartment and 18 two-bedroom apartments, according to the City's Planning and Community Development Department.
A two-level subterranean parking garage will include 31 spaces. Space for 54 bikes is included.
Above ground, the lot is 50-feet by 150 feet, the ARB staff report said.

It is also on a block which has a mix of buildings and uses, including six-story mixed-use residential apartment buildings, one- and two-story commercial buildings and parking lots.

The ARB report described the building's façade as smooth "stucco, silver setting, fine acrylic finish" and smooth concrete, grey in color with Silver vinyl frame windows and clear glass doors with silver vinyl frames.

Confronted with a housing shortage which –- as in much of Southern California -– is at its most severe for low-income earners, the Santa Monica City Council has been attempting to recreate more multi-family housing.
A newly approved re-engineering of downtown (called the Downtown Community Plan DCP) plans to add another 2,500 units before its ends date in 2030, including up to 30 percent earmarked as affordable in private, otherwise market-rate apartment complexes ("Santa Monica Council Sets Highest Affordable Housing Requirement in State for Downtown," July 27, 2017).
The 1437 5th Street project grew out of a legal and financial dispute several years ago between NMS Properties and Prudential after a default by developer Craig Jones .
The council stepped into the wrangling in 2011 by helping broker an agreement in which Prudential was to give NMS the 1437 5th Street property -- developed by Prudential and Jones -- and a $1.75 million refund ("City Makes Deal to Resolve Dispute In Wake of Developer's Default," April 14, 2011).
NMS, in return, agreed to build the affordable units on Lincoln Boulevard owed to the City as part of a related deal for market-rate apartments on Lincoln Boulevard.
The current development received updated administrative approval from the City on June 28, contingent on ARB approval, which typically involves architecturally-related issues.