By Lookout Staff
April 20, 2017 -- If you know that Popeye was born in a typhoon off of the Santa Monica Pier and are fascinated by local lore, you may consider becoming a volunteer docent at the old historic landmark.

The Santa Monica Pier Corporation is seeking volunteer docents who "will be trained to share fascinating stories" and "guide visitors through the rich history of the century-old Pier," officials said.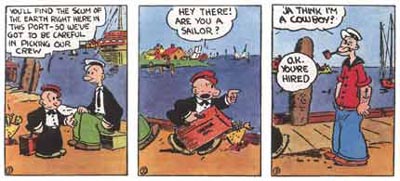 Popeye's first appearance in Thimble Theater on January 17, 1929 (with color subsequently added)
"Imagine how cool it would be walk along the historic Santa Monica Pier with someone who can tell you what happened where, who made it happen and what made the Pier so fascinating in the first place?" Pier officials wrote announcing the call for volunteers.
"Wouldn't it be even cooler to be that 'someone' who's sharing the stories?"
The stories feature the colorful characters and celebrities who lived in the apartments above the Merry Go-Round that now serve as Pier Corporation offices.
It also includes legends such as Marilyn Monroe and Charlie Chaplin and "a certain fishing boat captain who became immortalized as a world-famous cartoon character."
Popeye may have been created a few blocks west of the pier entrance in the Builder's Exchange Building, where cartoonist Elzie Crisler Segar was among the tenants that included artists, architects and detectives in the 1920s and 30s .
The character was inspired by Captain Olaf Olsen, a Norwegian sailor who operated the fishing barges in Santa Monica Bay, according to the Santa Monica Historical Society.

If you didn't know any of this, don't worry, Pier officials said.
"Those interested in being docents need not be experts -- yet," they said.
Training sessions will be held in mid-May for the volunteer docents, who will operate out of the new Pier Shop. They will provide information on site and take visitors on walking tours.
"Docents will be required to work on their feet as well as to walk the length of the Pier two to three times per day," officials said.
Docent shifts are scheduled for the late morning/early afternoons on Saturdays and Sundays, and the volunteers are expected to participate once to twice a month.
Interested volunteer docent candidates should contact Pier Historian Jim Harris at jim@santamonicapier.org or call (310) 458-4939.