By Lookout Staff
April 14, 2014 -- Pacific Park on the Santa Monica Pier on Thursday officially launched the world's first shark-themed Tilt-a-Whirl ride, the amusement park's officials announced.
The ride at the two-acre amusement park on the Pier promises to "take a bite" out of the classic amusement ride by adding a new "Shark Frenzy" design that lets riders sit in the jaws of the sharks.
The colorful cars -- which spin while whirling in "sudden, unpredictable movements -- feature seven iconic species of sharks, the Blue, Bull, Great White, Lemon, Mako, Sand Tiger and Tiger, park officials said.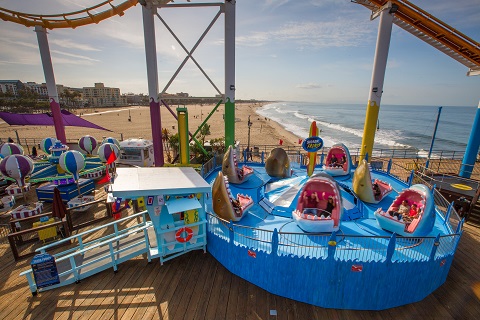 Pacific Park's "Shark Frenzy Ride (Photo courtesy of Pacific Park)
The cars can seat as many as three adults or four children and are accentuated with "shark warning signs, shark-bitten surfboards, lifesaving buoys and beach warning flags," park officials said.
"The opening of Shark Frenzy is part of our ongoing commitment to our guests and the community to consistently deliver an authentic California experience," said Jeff Klocke, vice president and general manager at Pacific Park.
The park has introduced several firsts, including the world's first solar-powered Ferris wheel and wind-powered midway game, Klocke said.
The original Tilt-A-Whirl ride, which was launched in 1927, features cherry red, half-globed whirling cars.
The cars for "Shark Frenzy" -- which was the brainchild of VENT, a Los Angeles-based strategy and branding shop -- were designed by DJ Neff in Santa Monica and built by Larson Entertainment, Inc. in Plainview, Texas, officials said.
Pacific Park, which marked its 20th anniversary last year, is LA's only admission free amusement park and offers 12 amusement rides, 14 midway games, an oceanfront food plaza and beachside retail shops.
For additional information and hours of operation, call 310-260-8744 or visit www.pacpark.com