By Jorge Casuso
April 11, 2017 -- Douglas Emmett's recent $287 million contract to purchase an 11-story building in Downtown Santa Monica highlights a heated real estate market that may be reaching its peak, real estate experts said.
If the deal closes, the $1,400-per-square-foot price for the 205,000-square-foot property at 1299 Ocean Avenue would be a record high for Santa Monica, according to a recent article in The Real Deal.
Douglas Emmett's offer "blew the pack (of competitors) away" and would easily surpass the record $1,165 per-square-foot price set by Oracle's purchase of 2700 Colorado late last year, Hannah Miet wrote.
The price paid by the Santa Monica-based Real Estate Investment Trust "is near the high end for Southern California," said Robert O. York, who specializes in real estate development consulting,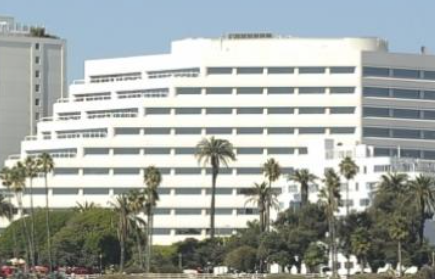 Wilshire Palisades (Image courtesy of DTSM)
"Once you break $1,000 a square foot, you're in pretty rarefied air and that's becoming more typical," said York, who is a longtime consultant for Downtown Santa Monica, Inc. (DTSM).
Called Wilshire Palisades, the Ocean Avenue property offers Class A office space with unobstructed ocean views, "a strong tenant base and some opportunity for turnover," York said.
High-end commercial buildings like Wilshire Palisades are being bought by investment funds and family trusts looking to invest in real estate, as well as some foreign investors, York said.
Sources told The Real Deal that Douglas Emmett's joint venture partner in the Ocean Avenue purchase is Qatar Investment Authority, but the information could not be confirmed.
Investors are willing to pay more for "trophy properties in a stable market," said York, "and Santa Monica is definitely in that category."
Rising Santa Monica prices, especially those downtown, are driven by a dearth of land on which to build and limited space in existing buildings, which are typically low rise, York said.
While Class A office buildings are going for record prices, buyers are more conservative when it comes to second tier commercial buildings, he said.
These building are increasingly attracting "small retailers in food and beverage and some independent operators," York said.
By contrast, the larger, often multi-level spaces on the Promenade are fetching substantial rents that can only typically be afforded by large corporate entities, he added.
"People are paying a premium for property on the Promenade, but the growth in recent years has slowed and plateaued," York said.