By Zina Markevicius
Special to the Lookout

September 2, 2016 -- Cyclists on green Breeze bikes, moms pushing strollers, and dogs of all shapes and sizes gathered in the bright morning sun Thursday morning for the long-awaited reopening of Santa Monica's iconic California Incline.

Beaming city officials and camera crews rounded out the quintessential Santa Monica crowd that watched the cyclists take off downhill, while a Big Blue Bus climbed upward to break through the ceremonial white ribbon.
Big Blue Bus cuts ribbon (Photos by Zina Markevicius)
After a 17-month reconstruction that cost some $17 million, the new and improved 1,400-foot stretch of California Avenue leading from Ocean Avenue to Pacific Coast Highway was once again open to the public ("Opening of Santa Monica's California Incline Delayed," June 20, 2016).
"Now there's a ton of steel in this thing," said Mayor Tony Vazquez, admiring the seismically upgraded structure that will handle 15,000 vehicles a day.
Vazquez was among the first to cycle up the dedicated bike lane, as a pair of drones hovered overhead.
Thursday's crowd applauded most for pedestrian and bicycle access and safety. The outside lanes of the roadway are reserved for pedestrians and bicycles and are separated by a thick concrete wall about four-feet high.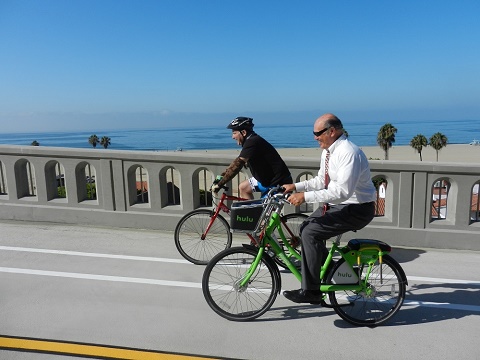 Mayor Tony Vazquez tests the bike lane.
"As a cyclist myself, this is what I want between me and a vehicle," said Vazquez.
"This is the only kind of wall I support," quipped Sheila Kuehl, Los Angeles County Supervisor and Santa Monica resident.
Following the official ceremony, the public was invited to stroll along the entire Incline until it was opened to car traffic at 5 p.m. Some walked, some jogged, and some biked down and back up the curving roadway. Several seniors made their way using canes and wheelchairs.
Many jumped the nearly three foot wall to take pictures under the restored neon "Santa Monica" sign. Pedestrian access is normally prohibited at the sign, but the attractive red letters and low barrier wall may prove too tempting.
Many in the crowd of about 300 seemed relieved that the free flow of traffic had resumed, as well as pleased with another transportation victory to follow the opening of the Expo line service to Santa Monica in May.
The primary aim of the Incline project was safety, and Blanca Rodriguez of Cal Trans congratulated the City on proactively preparing the structure for earthquakes such as the recent event in Italy. "Way to go, Santa Monica," cheered Rodriguez.
Several city departments featured booths along the roadway including free Santa Monica water, promoted as "locally sourced" and "better than bottled," as well as brownies from Whole Foods Market.
The Santa Monica Public Library distributed vintage postcards of the California Incline and information about their beachside pop-up reading lounge. "It's a good synergy to have us here," said Jeff Kaplan, reference librarian.
A little girl in a purple dress covered in sequins enjoyed the library's hula hoops. Meanwhile, a woman wearing a "Let's get weird" t-shirt narrated a video of herself walking the length of the Incline. A television reporter conducted an interview in Korean.
Up in Palisades Park, a couple sat on the forest green benches and stared out to the ocean. A pair of joggers slowed to peak over the bluffs, as one breathlessly asked the other, "What is this craziness about?"
It's another day in Santa Monica.