By Lookout Staff
November 17, 2016 -- The snow (albeit fake) has fallen and skaters have taken to the ice in downtown Santa Monica, marking the start of a holiday season that promises "a full slate of winter festivities," Downtown officials announced this week.
Produced by Downtown Santa Monica, Inc. (DTSM), the season features encounters with Santa, a tree lighting ceremony and "a mischievous movie screening," Downtown officials said.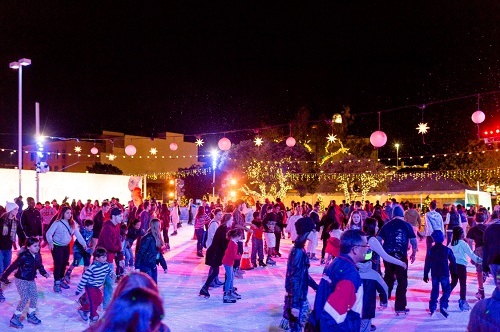 Skaters take to the ice at ICE Santa Monica (Photo courtesy of DTSM)
Fun in the rink continues this Thursday night when the 10th anniversary of ICE at Santa Monica offers Disco Fever night as part of a series of music-themed skate parties called ICE Grooves.
The Thursday night parties will feature Motown Funk, Tropical House, 80's Vice, Latin World, 90's Crush and Beatles vs Bowie. The series concludes January 12 with Indie Rock Festival night.
"With the 10th anniversary skate season of ICE at Santa Monica off and gliding, Downtown Santa Monica is ready to unwrap a full slate of winter festivities," organizers said.
On Black Friday November 25, Santa Claus and his band of jolly elves will stroll the Third Street Promenade all afternoon, "surprising shoppers by paying for their purchases up to $100," organizers said.
Santa will be joined by Mrs. Claus and City officials on Thursday, December 1, at 6:30 p.m. for the lighting of the "Official City of Santa Monica Holiday Tree" on the Third Street Promenade
The evening includes classic Christmas carols and a kids' craft station to create custom letters to Santa, who will be on hand for photos.
On Friday, December 3, Downtown Santa Monica's year-long outdoor movie series Cinema on the Street presents the comedy-horror film Gremlins, rated PG-13.
The movie tells the story of a teen who "inadvertently breaks three important rules concerning his new Christmas pet and unleashes a horde of malevolently mischievous monsters on a small town on Christmas Eve," organizers said.
The first 100 guests will be treated to free hot chocolate.
Shortly after sundown from December 24 through January 1, members of local synagogues will celebrate the Festival of Lights this Hanukkah with the lighting the menorah on the Promenade.
For more info, visit DowntownSM.com