By Jorge Casuso

May 18, 2016 -- One hundred years ago, amusement park entrepreneur Charles Looff flung open the doors of a hippodrome on his newly built pier in Santa Monica.

Drawn by the strains of a band organ that could be heard for blocks in the quiet nearly car-free city, families began flocking to the new attraction, where they paid a nickle to ride the hand-carved carousel.

At 11 a.m. Sunday, June 12, visitors to the Sana Monica Pier's famous hippodrome will once again pay a nickle to ride the 44 hand-painted horses , one rabbit, two sleighs and one goat that have delighted generations.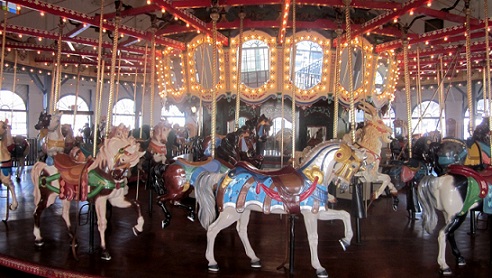 Carousel inside the hippodrome. Photo Credit: Santa Monica Pier Corporation

"The Looff Hippodrome has created a special day of activities to delight families, pique the interest of historians and architecture buffs, and remind everyone of its unique place in the city's history," organizers said.

"One hundred years (after opening), this day-long adventure will beckon all who seek to relive old memories and create new ones."

The anniversary celebration will also offer an exclusive tour of the historic second floor carousel apartments that have been converted into offices for pier staff.

Writer William Saroyan once rented a small office on the second floor, and some of those who lived there counted the famous among their guests, including Cesar Chavez, Joan Baez and Daniel Ellsberg, who handed over the Pentagon Papers to a reporter at a bar across the street.

The anniversary celebration will also feature limited edition Brass Ring potato chip sundaes, a Gallery of Historic Photographs and Lithographs and a 1920's photo booth where visitors can have their photos snapped with Marilyn Monroe, Charlie Chaplin, Popeye and other Pier icons. (Popeye was born in a typhoon off the pier.)

Designated a national historic landmark in 1987, the Looff Hippodrome "stands as a beacon of Byzantine, Moorish and California architecture," officials said.
Hippodromme at the Santa Monica Pier. Photo Credit: Santa Monica Pier Corporation

The structure was the heart of the amusement pier Looff and his son Arthur built on 200 feet of beachfront land they bought for $50,000 next to the municipal pier.

The Loof Pier -- which competed with a string of seaside amusement promenades up and down the coast -- was a hit and featured such rides as "The Blue Streak Racer" roller coaster, the "Whip" and "Aeroscope."

Eight years later, the La Monica Ballroom -- a vast, ornate dance palace floating above the sea -- became the largest ballroom in the world, serving as the site of the famous Dance Marathons in the 1930s and attracting celebrities and television shows.

The hippodrome and its famous carousel was famously featured on the big screen in the 1973 film "The Sting" starring Robert Redford and Paul Newman.

After falling on hard times, the pier was saved by residents, fans and historical buffs who pressed the City to buy the land and combine it with the municipal pier.