By Niki Cervantes
Staff Writer

August 18, 2016 -- The lowly City utility box is being re-born as public art starting later this month, enveloped in colorful "art wraps" painted to tell tales of life in lovely, sunny Santa Monica.

The first of the collection is being wrapped around a City traffic-control utility box later this summer at the intersection of Ocean Park and Lincoln Boulevards, said Karen Ginsberg, director of community and cultural services for the City.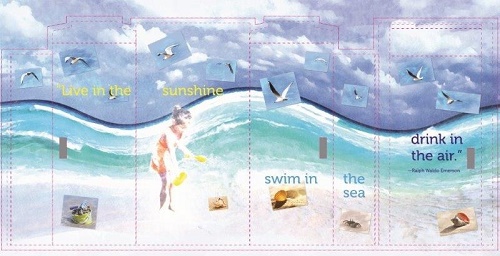 Photo credit: City of Santa Monica

The wrap displayed in a new Ginsberg report to the City Council is a soothing, mostly blue and white depiction of Santa Monica's most famous assets: Soft sandy beaches and ocean waves under blue skies and billowing white clouds.

"Live in the sunshine, swim in the sea, drink in the air," it says in quoting Ralph Waldo Emerson (although the wrap omits "wild" before the word "air," which is included in Emerson's famous poem of the late 1800s, Conduct of Life).

More of the art wraps are coming over the months to the neighborhood, she said. And if all goes well, more art will start transforming utility boxes on Montana Avenue too.

Cities across the nation are adding the same dashes of color to their utility boxes, which are ubiquitous and boring, often becoming an open canvas for illegal graffiti.

Transforming the boxes into public art enhances "the visual environment, while also spotlighting artists from the city and region," Ginsberg said in an August 9 update of the project.

It also has the "added benefit of encouraging potential new partnerships between City departments, local businesses, neighborhood organizations and artists," she said.

"Beyond enhancing the visual aesthetic of our built environment, public art can strengthen connections between place and community," she said. "In many neighborhoods, public art can help foster identity of the community, while also welcoming visitors and making business districts more lively."

She noted public pieces of art in surprising places are also magnets for social media posts by visitors, resulting in free word-of-mouth advertising for the City.

In that sense, turning utility boxes into art is highly cost effective as well, she said.

Each wrap costs the City $750 to install, which includes cleaning and pretreatment work.

The City Council voted last year to order a pilot project for the art wraps at Ocean Park and Lincoln Boulevards and Montana Avenue, where the community had expressed interest.

The Lincoln corridor south of the I-10 freeway – already the subject of a beautification and improvement project -- includes six traffic control boxes alone. Last year, a variety of designs for wraps were created by students at Olympic High School in collaboration with the City and artists from Beautify Earth, a nonprofit group helping.

Post-production work has started, Ginsberg said. City staff will manage the printing of the wraps, which will be on graffiti-resistant vinyl. It will also be in charge of installation.

Other wraps will be installed over the coming months, as funding allows, Ginsberg said. Completion is slated for early 2017.