By Niki Cervantes
Staff Writer
August 9, 2016 -- From the Promenade's Criterion Theatre and Apartments, built in 1924 with an opulence that rivaled the most famed Hollywood movie palaces, to a sprawling 1950s office complex on Arizona Avenue, Downtown sites offer a glimpse of Santa Monica through the decades.
But many don't have the protections of designated landmarks, and it is not clear how they will fare in the latest draft of the Downtown Community Plan (DCP), preservationists said.
The Conservancy plans to zero in on such issues during the City's "Preservation and Change Workshop" at the historic Santa Monica Bay Women's Club, 1210 4th Street, Saturday from 10 a.m. to 2 p.m.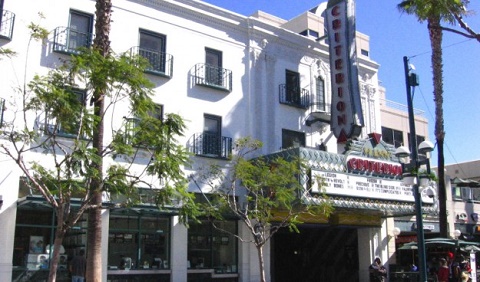 Criterion Theatre and Apartments (Photo courtesy of Santa Monica Conservancy)
The event -- the second of three on the contentious Downtown Plan -- will focus in part on the fates of 53 buildings that are reminiscent of bygone eras but face vulnerable futures.
"There are special considerations needed for these buildings in terms of maintaining their historic value," said Carol Lemlein, president of the Santa Monica Conservancy, which was formed in 2002 to help protect the city's architectural and cultural heritage.
Lemlein said the Conservancy is well prepared for the workshop and has spent weeks giving tours to officials and others of downtown buildings that have historical significance. She said that her group is generally supportive of the City's preservation efforts.
The properties preservationists most worry about are those that appear to be of historic significance but have not earned the status and safety of a designated landmark, Lemlein said. As one such example, she points to the Criterion Theatre and Apartments building at 1301 3rd Street.
A product of the Roaring Twenties, the building combined retail shops, apartments and a theater in a lavish version of Classical Revival architecture, complete with pilasters, capitals, friezes and ornamental motifs.
When the Great Depression hit, Shirley Temple and Will Rogers performed there to raise money for unemployed citizens.
The theater has been remodeled many times over the decades, officials said, and the apartment portion was damaged in the 1994 Northridge earthquake. It was later rebuilt providing retail space. But the long-ago façade remains.
For many old buildings, demise due to demolition is a danger, Lemlein said.
"But so is death from a thousand cuts," she added.
"Historic" sites in Santa Monica can be anything from a building to an object, an entire district or even a landscape associated with historic events or historical persons.
Such sites can represent a rare type of historic property, while others exemplify architectural qualities that give them historical importance, City officials said.
Designated landmarks have the highest level of significance and are offered the highest level of protection from demolition and alterations. The City is conducting a new citywide survey of such potential sites built between 1875 and 1977.
The City currently identifies 88 downtown sites as potentially having historic significance.