By Lookout Staff
August 5, 2016 -- A new exhibit at Santa Monica's Annenberg Community Beach House explores how our minds shape the landscapes we call reality.
The Language of Landscape -- on display through September 26 -- features works in various media by southern California-based artists Christine Nguyen, Pam Posey, John Dembski and Melissa Huddleston. The artists will attend an opening reception Tuesday at 6 p.m.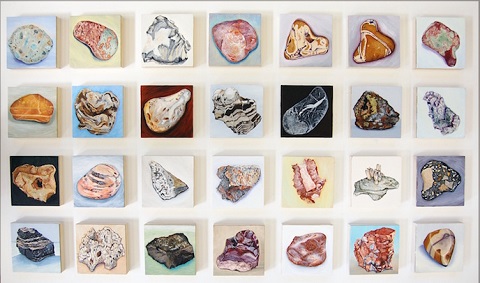 Pam Posey's "28 Stone Portraits"
The exhibit, which includes drawings, paintings and mixed media works, "features representational and abstract vistas drawn from the fiction of the mind's eye to the presumed nonfiction of the natural world," exhibition organizers said.
Based in Long Beach, Nguyen's work draws on scientific illustration and the work of naturalists such as John Muir and Ernst Haeckel "to convey a world unseen by the naked eye," organizers said.
Chrisine Nguyen's "Prisms of Light"
Nguyen is a recipient of the 2015/2016 COLA (City of Los Angeles) individual artist fellowship, and her works are included in collections at Los Angeles World Airports, the Hammer Museum, Ohio's Cleveland Clinic and the Getty Research Institute.
Posey -- who is currently the director of the Sam Francis Gallery at Crossroads School -- creates works that offer a "speculative interpretation of nature," organizers said.
Her work, which has been exhibited at Craig Krull Gallery, Zask Gallery and the Huntington Beach Art Center, "highlights often overlooked aspects of geology and topology and emphasizes an alienation from the familiar."
Dembski, whose work is included in the collection of the Philadelphia Museum of Art, "has created a series of works that interrogate the need to control and structure what is untamable," organizers said.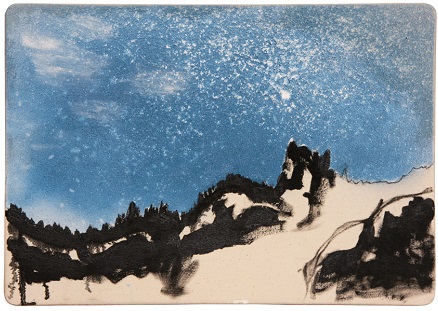 Melissa Huddleston's "Yosemite"
Tackling a similar theme, Huddleston's landscapes "strive toward a reconciliation with the unkempt wilderness," organizers said, adding that they are a departure from "the countless depictions of our national parks as crisp and beautiful wonderlands."
Huddleston's works have recently been included in exhibitions at Monte Vista Projects and Subliminal Projects in Los Angeles.
The Annenberg Community Beach House is located at 415 Pacific Coast Hwy at Beach Coast Way in Santa Monica. Parking is $12 per day or $3 per hour.
For more information visit annenbergbeachhouse.com or call (310) 458-4904.