By Jonathan Friedman
Associate Editor
August 1, 2016 -- City Council incumbents Tony Vazquez, Ted Winterer and Gleam Davis won coveted endorsements from Santa Monicans for Renters' Rights (SMRR) at the organization's convention on Sunday at John Adams Middle School.
Fellow incumbent Terry O'Day placed fourth in voting, but failed to meet the threshold required to win the group's backing. He was the top vote-getter in subsequent second and third rounds of voting, but both times failed to get above 55 percent support.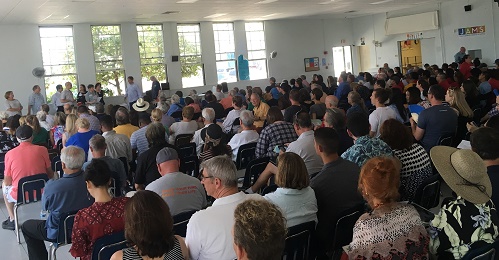 2016 SMRR Convention (Courtesy of Pico Youth and Family Center)
Challengers Jennifer Kennedy, a Sana Monica Planning Commissioner and longtime SMRR member, and Armen Melkonians, a leader of the city's slow-growth movement, also sought endorsements.
SMRR's steering committee could decide later this month on a fourth candidate for the organization to support.
SMRR voted 109 to 60 for a motion not to support the slow-growth LUVE initiative. ("LUVE Initiative Placed on Santa Monica Ballot," July 13, 2016).
The organization endorsed the measure for a half-cent sales tax and the accompanying non-binding proposal that the revenue be split evenly for affordable housing programs and to support the Santa Monica-Malibu Unified School District (SMMUSD) ("Santa Monica Ballot Will Include Two Sales Tax Measures," June 30, 2016).
SMRR also endorsed the measure to amend the City's anti-corruption law known as the Oaks initiative ("Council Finalizes Santa Monica Anti-Corruption Measure for Ballot, Names Friendship City," July 29, 2016).
Receiving the endorsement for the SMMUSD board were incumbents Maria Leon-Vazquez and Ralph Mechur as well as challenger Jon Kean. Challenger Phil Brock had also sought an endorsement.
Endorsed for the Santa Monica College board were incumbents Rob Rader, Susan Aminoff and Margaret Quinones. Challenger Sion Roy had also sought an endorsement.
For the Rent Control Board, incumbent Anastasia Foster and challenger Caroline Torosis were endorsed. They were the only two to seek an endorsement for the two-seat contest.
The Lookout will have more detailed results and reactions from the candidates Monday morning.