By Lookout Staff

April 22, 2016 -- The micro and macro, natural processes and mechanical devices are the subjects of a digital photo exhibit opening at the Annenberg Community Beach House Gallery in Santa Monica next week.

The show, which opens with a reception Tuesday from 6 to 8 p.m. and runs through July 12, features the work of local artists Bruria Finkel, Anne Troutman and Sheila Pinkel .

Curated by Finkel, the exhibit "explores the use of digital photography by artists engaged in investigating time, light and space, nature and landscape, the visible and invisible at the intersection of art, science and technology," organizers said.

Pinkel uses close-up lens scans to investigate light phenomena revealed in optical glass, while Troutman layers fragments of a natural image "to create an immediate and immersive experience of seeing," organizers said.
Sheila Pinkel, Untitled

Finkel's photographs were taken on the 2012 winter solstice at Santa Monica Beach and on the 2014 summer solstice at Nancy Holt's Sun Tunnels in Utah at 4-second intervals, evoking "both the passage of time and a sense of perpetuity." Pinkel, an emerita professor of art at Pomona College, where she taught photography and computer graphics, is an international editor of "Leonardo," an academic journal published by MIT Press devoted to the intersection of art, science and technology.

"All of her work is about making visible the invisible in nature and culture," organizers said.

A solo exhibition featuring Finkel's light works and glass rods took place last year at Higher Pictures in New York. Her work also has been featured in the experimental photo exhibit "Photography at 50" at the Los Angeles County Museum of Art (LACMA) and at the Strauss Collection at the Denver Museum of Art.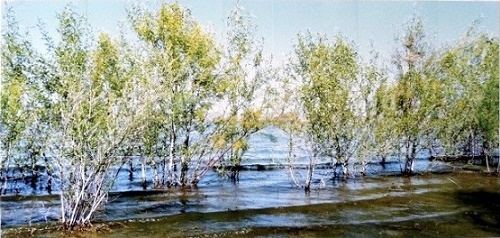 Anne Troutman, Just Circumstance (Lake Elsinore)

Troutman is a founder and former director of the Women in the Arts Program in Santa Monica and chair of Environmental Design at Santa Monica College of Design Art & Architecture, where she teaches installation and performance art. She also has taught innovative design at the Southern California Institute of Architecture.

A leading Santa Monica artist and arts advocate Finkel works in a variety of media, including painting, photography, sculpture and ceramics "to explore subjects from abstract geometry to figuration," organizers said.

"A major theme in her work is the motion of time in the human experience and in cycles of nature."

During her artistic career, Finkel has explored ecology, women's issues and survival issues, created works inspired by her translations of a medieval Hebrew Cabalist and mounted art installations in Germany, England and the U.S.

After a car accident six years ago, time and change became major themes in her work, which uses digital photography, iPhone and iPad.

Tuesday's reception will offer an opportunity to view the exhibition, meet the artists and enjoy light refreshments, organizers said.

The Annenberg Community Beach House is located at 415 Pacific Coast Highway. For more information or to make reservations visit http://www.annenbergbeachhouse.com/beachculture