By Jason Islas
Staff Writer

February 1, 2013 -- "It's a reality check," said Mark Loranger, president and CEO of Chrysalis, a nonprofit in Santa Monica that helps homeless and low-income people get jobs, as he prepared to participate in the annual homeless count.

Loranger was one of more than 250 volunteers who turned out at the Santa Monica Civic Center Wednesday night to tally the number of people sleeping on the streets or in their cars throughout the wealthy beachside city.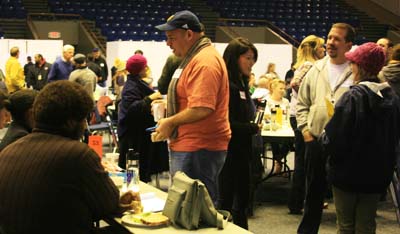 Volunteers mingle before their work starts (photos by Jason Islas)
"You don't really have an appreciation for how challenging it is until you see" people sleeping on the streets, he said.
Most of Chrysalis' clientele, Loranger said, aren't regularly bedding down on the sidewalks, but some of them do spend the night in their cars.
Yet, he said, they come in the next day, dressed and ready to keep looking for work. "It takes a lot of guts. A lot of drive."
Naomi Wolman sat with her friend at table 37, waiting for City staff to begin the brief training session for volunteers before heading out into the streets. For Wolman, this would be her third homeless count.
"Once you walk in the streets, you understand better what it means to be homeless," she said. "How dangerous it is. How lonely."
Council member Gleam Davis recalled that the first time she participated in 2010, she came across a mother and a daughter sleeping in a park.
"I wanted to put them in the car and take them home with me," she said. Instead, Davis mentioned what she saw to a police officer who provided information to the mother about the many programs available in Santa Monica.
Volunteers listen to a short lecture on counting protocol.
Homeless counts are mandated every two years by the U.S Department of Housing and Urban Development for communities that receive federal homeless funds.
But Santa Monica began doing it every year starting in 2010 in order to assess how effective the services in the city are in getting people off the streets.
Because the community supports Chrysalis with public funds, Loranger said he has an obligation to participate in the count to show the community that his organization is using the resources to work toward solving homelessness.
In 2011, Los Angeles County counted 51,340 homeless people living within its boundaries, Senior Administrative Analyst Natasha Guest told the crowd Wednesday night.
Though still home to the largest homeless population in the country, L.A. County saw a three percent decrease in homeless individuals from 2009 to 2011, she said.
From 2009 to 2012, Santa Monica saw a 19 percent decrease in homelessness and a 34 percent decrease in street homelessness, Guest said.
In 2012, volunteers counted 769 homeless people living in the streets, shelters and hospitals in the beachside city dubbed by comedian Harry Shearer as "the home of the homeless."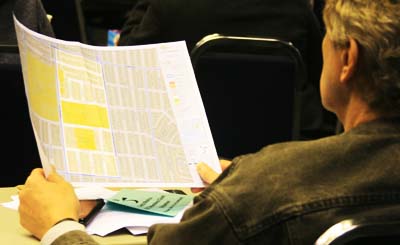 A team captain looks over the ground his team will cover
Santa Monica's Action Plan to Address Homelessness, adopted in 2008, lists ending street homeless as the top measure of success for the city's programs and nonprofits.
Santa Monica also champions a housing-first approach to ending homelessness, which priortizes finding stable, supportive housing for individuals as an essential first step for treating mental illness or addiction.
In 2008, Santa Monica began identifying its most vulnerable homeless people, noting medical condition, ages and other pertinent information.
"There are limited resources," said Guest. "And limited affordable housing. We can't house everyone."
The registry allows City officials and their nonprofit partners to identify those most in need of housing.
The atmosphere in the Civic Center before the 65 teams of volunteers were dispatched resembled a community gathering. There was even a raffle for the volunteers that included gift certificates and spa treatments.
Mayor Pam O'Connor cheered the volunteers from a podium at the front of the auditorium shortly before midnight.
"Go team Santa Monica!" she shouted, applauding everyone for coming out so late on a weekday to give their time.
"It's fabulous," she told The Lookout Wednesday. "This is a really great turnout. There are people here from all ages."
Social Services Commissioner Brian Chase said that for him, the homeless count was as much about doing a public service as it was about "a sense of community" as well as "meeting and spending time" with people.
"Sometimes you haven't seen someone since the last homeless count," he said.
But the conversations died down and the auditorium emptied, table by table, as Guest called out the teams for dismissal. Just after midnight, the night was just beginning.
"Our last team came in around 2:40 a.m.," said Guest, adding that City staff will present the results of the count to the Social Services Commission on February 25.
After the volunteers cleared out, the auditorium and its tables were left empty