By Lookout Staff
October 24, 2012 -- Police are looking for additional victims after a man was arrested and charged with the sexual assault of a woman on Santa Monica Beach two weeks ago.
Brandon Cross, 36, of Chino was arrested last Wednesday after harbor officers patrolling the north beach area spotted the suspect at around 5:30 a.m. in the general area of the crime, which took place at 4:50 a.m.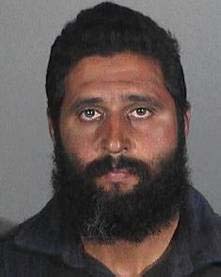 Bradon Cross, suspect arrested in connection with assualt (photo courtesy of SMPD)
Investigators on Friday presented the case to the Los Angeles County District Attorney's Office at the LAX Court, which filed one count of attempted murder, two counts of forcible rape and one count of sexual penetration by a foreign object.
Cross also was charged with one count of assault by means likely to produce great bodily injury and resisting officers. Bail was set at $1.35 million.
"Given that this incident may not have been a singular event," police are asking other possible victims or those with information to contact investigators, said Sgt. Richard Lewis, the department spokesman.
The victim reported that a man had chased her down and wrestled her to the sand while she was out for a run at approximately 4:50 a.m. near lifeguard tower 8 on the 800 block of the beach, police said.
The victim "continued to fight and was able to free herself and run towards the Pacific Coast Highway."
A composite drawing of the suspect was completed and an exhaustive search for the suspect began, Lewis said.
The Preliminary Hearing for Cross is set for November 12, 2012 at 8:30 a.m. in Division 142 of the LAX Court.
Anyone with additional information should call Detective Phillip DeRyck at 310.458.8944, Sergeant Darrick Jacob at 310.458.8460 or the Santa Monica Police Department (24hours) at 310. 458.8495.
Those who wish to remain anonymous can call 1-800-78-CRIME (1-800-782-7463) or visit www.wetip.com. Anonymous tippers can also contact Crime Stoppers at 1-800-222-TIPS or www.lacrimestoppers.com.
"If the information leads to an arrest, the tipster is eligible to receive a reward up to $1,000.00," authorities said.