By Jason Islas
Staff Writer

October 18, 2012 -- In a quiet gathering above the main floor of one of Santa Monica's oldest restaurants, friends and relatives of Gwen Wunder (nee Shultz) paid their respects Wednesday to the memory of the "tough broad" and community organizer who, for over 30 years, advocated for landlords in the rent-controlled city.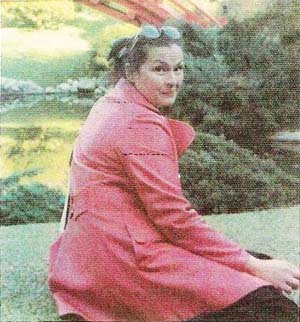 Photo courtesy of the Schultz family


Over the course of two hours in the dimly lit loft above El Cholo's main floor, Wunder's loved ones swapped stories about Wunder, remembering her as a woman with vitality, generosity, a sense of humor as well as an uncanny ability to read people.

"Gwen was a mother, adviser, sounding-board, nurturer," Wes Wellman, a realtor who worked with Wunder for over 30 years, recounted to the small crowd gathered at the restaurant. "And she had an unique ability to find everyone's soft spot."

Wellman, who owns a realty firm based in Santa Monica, became emotional as he remembered that every morning for 32 years, the first phone call he would take would be Wunder.

"We'd spend thirty to forty-five minutes on the phone" with Wunder, he said, holding back tears.

Wellman said that he hired Wunder, whom he called a community organizer, after Santa Monica voters passed a strict rent-control law in 1979.

Out of their partnership was born Action in Santa Monica -- later called the Action Apartment Association -- a landlord advocacy group that represents landlords in the West Los Angeles and Santa Monica.

Back then, Action was just a group of 25 people, said Wellman. And Wunder doubled as executive director and "on-call therapist" for landlords who felt beleaguered by the City.

"My mom was a complex woman who wore many hats," Matt Wunder, her son, remembered to the crowd.

"About a year ago, I found out my mom was seven years older than I thought she was," he said to somber laughter.

"I remember driving around L.A., trying to find the end of a rainbow," he said -- his voice cracking -- referring to one of the many adventures he went on with his mother when he was a child.

Wunder, who succumbed to lung cancer in September at the age of 82, was "generous to a fault," Matt said. "But she was vehemently opposed to the government doing the same."

"It was a cause for her," Matt told The Lookout Wednesday, referring to her work with Action.

"She was a class act," said Robert Kronovet, the only realtor currently serving on Santa Monica's Rent Control Board.

Even though Wunder was at the front lines of the extremely contentious -- and often ugly -- battle over rent control in Santa Monica, Kronovet said, she never dehumanized the opposition.

"What does it mean to live a life that matters?" An'Nisa, Wunder's assistant for her last two years at Action, asked rhetorically.

An'Nisa remembered how she and Wunder would fantasize about traveling the United States in a motor home and then writing a book about their experiences.

"It's not a matter of circumstance," she said. "It's a matter of choice."

Wunder lived a life that mattered, An'Nisa concluded.