By Jason Islas
Staff Writer



October 12, 2012

-- Three challengers from Malibu are in the race to sit on the Santa Monica-Malibu Unified School District Board of Education, but their campaign has raised some eyebrows, with two different messages for each city.

The three challengers, who are running as a reform slate, all hail from the upscale city -- which represents about 17 percent of the district -- and have been putting up signs around their town that read "From Malibu. For Malibu," a slogan that has ruffled some feathers on the current board.

In Santa Monica, their signs read "Transparency. Focus. Achievement."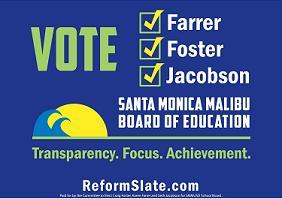 "I would never tell folks in Santa Monica that I'm only for Santa Monica," said Board of Education President Ben Allen, who is running for re-election this November.

"It's really important that the voters choose board candidates who consider it their responsibility to look out for the entire school district and our children in both Santa Monica and Malibu," he said.

Craig Foster, one of the three reform candidates, said that the slogan wasn't meant to suggest that they would represent the interests of Malibu to the exclusion of Santa Monica.

"It'd be a shame for the hometown favorites to not make it clear that they are from the hometown," said Foster, who is a credentialed teacher and current president of the PTA at Webster Elementary School.

"The people of Malibu need to know this is their chance to have someone represent them on the school board," he said.

Foster pointed out that Malibu hasn't been represented on the School Board since former Board President Kathy Wisnicki decided not to run for re-election in 2008.

"I think there are a lot of benefits to having someone on the board from Malibu. It brings a particular perspective that can be helpful," said Allen.

But the fact that there is a whole slate of candidates concerns Allen.

"If they had one candidate asking for a voice for Malibu, this message would've made more sense," he said, referring to the yard signs appearing in Malibu. "But the idea that they want to take over half the board is something voters in both communities ought to view with some hesitation."

Not everyone is convinced that the message is just about representing Malibu.

The signs are "telling folks in Malibu that their real concern is unification," said School Board member Ralph Mechur.

Unification is the technical term for separating the school districts into two different districts.

Though it separating the districts has been a perennial discussion, in November 2011 the Malibu City Council voted to move ahead with a plan to petition the Los Angeles County Committee on School District Organization to form an independent school district.

A report to the Board in March revealed that unification would be a long, complicated process and that more study needed to be done to determine the financial impact on the two cities. ("Malibu Faces Lengthy Process to Break from Santa Monica," March 6, 2012)

Foster maintains that the slate is not running to break up the district and the signs are not meant to suggest a separationist platform.

"We're not running to secede. We're running because the district needs a change of focus, a change of strategy and a change of culture," Foster said.

However, Foster and his fellow reformists, Karen Farrer and Seth Jacobsen, do believe that unification is the best route to take to fix the district's problems.

"We believe that separation is the right thing for both cities. We believe that when all the exploration is done, it'll be clear to everybody that separation is in the best interest of both cities," he said.

Mechur is less certain.

"Until the economic analysis is complete, and the impacts of unification on programs and staff are known, I don't know if it's positive in terms of education," Mechur said. "Trying to drive the focus toward unification could impact current programs negatively."

Foster and the other reformist candidates are running to unseat Allen and incumbents Jose Escarce and Maria Leon-Vazquez this November.