By Melonie Magruder
Lookout Staff
December 9, 2011 -- For the first time in 57 years, there may be no "The Christmas Story" gracing Santa Monica's Palisades Park with a quaint two-block long, life-size display of 14 nativity scenes this holiday season.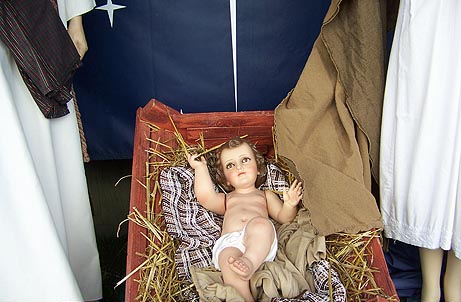 Nativity Scene courtesy of Hunter Jameson
This year, a battle mounted by atheists for permitted display spaces left the Santa Monica Nativity Scenes Committee with only three spaces shoehorned onto a patch of grass near Santa Monica Boulevard.
"This has been a city tradition for nearly 60 years," said Hunter Jameson, who chairs the committee, a coalition of 13 local congregations and the Santa Monica Police Officers Association. "These new groups applying for permits aren't even Santa Monica residents, and they are just derogatory to organized religions."
The new applications for winter displays -- which include images of devils -- seem to come "from one group of people" hostile to the Nativity message, Jameson added.
Damon Vix, who is displaying a Thomas Jefferson quote declaring that "religions are all alike – founded upon fables and mythologies" applied for a winter display permit last year after "20 years of seeing this offensive Nativity display in Palisades Park."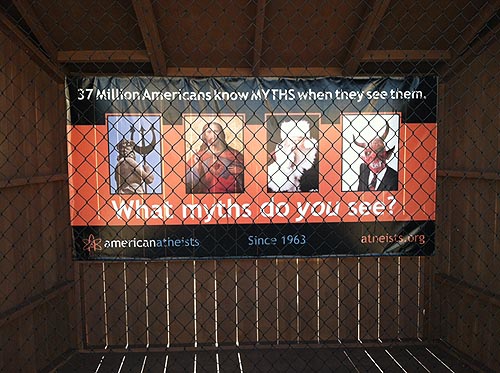 Atheist Display. (Photo by Frank Gruber)
An atheist since high school, as well as an ordained minister ("If they can do it, so can I," he said), Vix is firmly against promoting religious orthodoxy on public property.
"There is a growing secular community in this country that has kept quiet for too long," Vix said. "If they want to display Nativity scenes on church property, that's fine.
"I don't have a problem with Christmas, if it's Santa Claus and elves," he said. "But there are a lot of people who live in Santa Monica who are not Christians."
The battle for display spaces is a prime example of either a secular "war on Christmas" or a First Amendment issue that underscores the concept that separation of church and state allows non-believers as much of a voice as a six-decade old tradition.
Federal law has designated public parks and streets as classic public forums in which individuals have maximum First Amendment protection. So, while the City has some authority to regulate the time, place and manner of speech in streets and parks, it cannot regulate content of the speech.
Atheist Display. (Photo by Frank Gruber)
"Though the City can designate particular space… for winter displays and prohibit displays in other park space, it cannot favor one speaker or message over another," said City Attorney Marsha Moutrie.
A few years ago, Chabad of Santa Monica applied for a permit to display a menorah. Last year, a private group applied for a permit to promote their secular views with the quote from Thomas Jefferson. Now the gloves are off.
More than a dozen permit applications were received for the Palisades Park winter displays this year, so the City established a lottery system for allocating permits, with spaces determined randomly.

"The City cannot pick and choose among potential displays based on either the proposed content or the identity of the speaker, and must instead afford an equal opportunity for the presentation of all messages and views," she said.
Moutrie added that the city cannot legally give preference to displays by local groups or individuals.
Vix is aware that his stance has generated antagonism from the public. He was personally threatened when setting up his own display next to that of the American Atheists organization featuring images of horned devils, Jesus, Kris Kringle and a declaration that "37 Million Americans know MYTHS when they see them."
But Vix is undeterred in his mission to give equal voice to non-believers when it comes to messages on public property. Despite the tradition of the Nativity displays, he thinks the City should cancel the program and avoid the controversy.
Jameson, however, is not giving up so easily. He feels that City rules have been manipulated to prevent "a month long, time-honored tradition supported by 14 Santa Monica-based organizations representing thousands of local residents."
He has organized a nonprofit group called Santa Monica Nativity Scenes and formed a campaign drive to "Save Our Nativity Scenes," urging like-minded residents to petition City Council members and the city manager's office to allocate adequate space for all 14 Nativity scenes in the park next year.
Vix is not a complete Grinch about the upcoming holiday. In response to a question about how he would celebrate the holidays, he laughed and said, "Merry Solstice!"