By Ann K. Williams
Staff Writer
April 25, 2011 -- The Santa Monica City Council and Planning Commission are going to be boxed in by parking controversies next week as they try to steer their way around a host of conflicting interests.
Downtown Parking Structure 6 is back for deliberation, as is a development agreement amendment that, if passed, may resolve St. John's Health Center parking disputes, and, in yet another item, mid-city residents are up in arms about sports bar patrons they say are stepping on their parking rights.
Chief among the city council's quandaries Tuesday will be how to get around a roadblock the planning commission put in the way of rebuilding Downtown Parking Structure 6.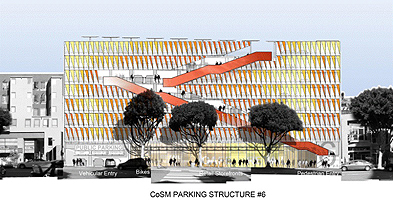 The proposed facade of Parking Lot 6.
The commission denied a conditional use permit for the project early in March, and city planners are ready with new schematics to bolster their arguments for going ahead with the project as the council considers an appeal to the commissioners' decision.
Key among the commissioners' concerns was the worry that traffic would bottleneck at the lot's entrance and exit lanes, further clogging downtown's already congested streets.
Staff say they've solved the problem by adding another exit lane so that cars leaving the lot can turn left or right on 2nd Street. Cars going in the one-lane entrance will be able to go up or down as directed by "wayfaring signs."
City planners studied an exit into the alley behind the lot suggested by the planning commission, but don't think it's a good idea because of the pedestrian and delivery truck traffic there.
The planning commission will also have parking on its plate when it holds a special meeting Wednesday to discuss an item left over from last week's meeting – parking at the Yahoo Center on Colorado Boulevard.
The Center seeks to amend its development agreement with the city so that it's responsible for fewer on-site parking spaces for its tenants.
That would allow it to continue leasing out more than 1,000 unused spaces to its neighbors, most notably St. John's Health Center, which supports the amendment.
St. John's is embroiled in its own development agreement controversy as it tries to get out of constructing parking for its employees and clients.
The health center is asking for an amendment to allow it to lease some 1,500 spaces under the "shared parking" strategy allowed by the city's Land Use and Circulation Element (LUCE) instead.
In another agenda item before the city council, more parking restrictions are in the works.
The council is being asked to approve expanding the hours and area of preferential parking between Santa Monica and Colorado Boulevards in the eastern part of the city.
Residents say a sports bar on Santa Monica Boulevard is the main culprit as its rowdy patrons take up valuable parking spaces at all hours of the night.
And the council is being asked to consider limiting parking to two hours during weekdays in a residential area around Santa Monica College.
The public portion of the city council meeting will begin at 6:30 p.m. on Tuesday, April 26, 2011 in the city council chambers at City Hall, 1685 Main Street, Santa Monica. For more information, see the city council's agenda.
The planning commission will meet at 7:00 p.m. on Wednesday, April 27, 2011 in the city council chambers at City Hall, 1685 Main Street, Santa Monica. For more information, see the planning commission's agenda.