By Melonie Magruder
Lookout Staff
April 13, 2011 -- Earth Day will celebrate its 41st birthday on April 22 and Santa Monica plans to live up to its reputation as being first among green cities.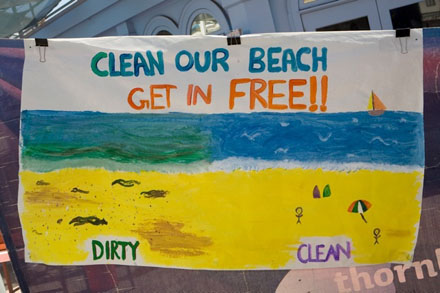 Heal the Bay gets the message across. Photo courtesy of Lillie Grossman
There will be a full slate of activities throughout the month for those who want to learn more about our planet and its environment.
Green advocate Heal the Bay has sponsored activities planned for the entire month of April, with special festivities scheduled for Saturday and Sunday, April 16-17, from 11 a.m. 'til 6 p.m. at the Santa Monica Pier Aquarium.
On Saturday, admission will be free to all who help clean the beach at Will Rogers State Beach for Nothin' But Sand or around the pier itself, with Heal the Bay providing gloves and bags. Last year, some 1,900 volunteers showed up to rid the beach of about 1,500 pounds of trash within a mere two hours.
The beach around the pier has, of course, regularly found itself featured on Heal the Bay's annual "Beach Bummer" list for consistently poor water quality.
At last year's beach clean-up, one of the activities at the aquarium showed a scale model of the city that illustrated exactly how nutrient and pesticide-laden storm water makes its way down to local beaches, polluting the water, and currently earning the pier beach an "F" rating.
Aaron Kind gives a "Who Pollutes?" presentation. Photo courtesy of Natalie Burdick
Randi Parent, public outreach specialist for Heal the Bay's Santa Monica Pier Aquarium, hailed Saturday's upcoming "teachable moments."
"Twice a day, we'll present a program called 'Who Pollutes?' that shows how stormwater affects the animals in the bay," Parent said. "We'll also have shark feedings at our open top shark tank at 3:30."
Shark presentation at the aquarium. Photo courtesy of Natalie Burdick
Heal the Bay is also setting up an observation tent on the far west end of the pier, staffed by naturalists with binoculars, to point out the bounty of marine animals to be found so close to our shores including dolphins, sea lions, sea birds and maybe even a whale or two.
"We're hoping all our volunteers will learn how to advocate for pending legislation to ban shark finning," Parent said. Assembly Bill 376 aims to stop the practice of cutting the fins off of living sharks (which leaves the animals unable to swim), to satisfy a global demand for shark fin soup.
Santa Monica College is celebrating Earth Week April 18-22. One of the "greenest" campuses in California, SMC has the largest solar panel installation in the city and recently launched two "green" job-training programs in solar installation, and recycling and resource management.
Festivities will begin Tuesday with a keynote address by Richard Kahn, an education professor at Antioch University in L.A. who specializes in environmental issues.
Also on Tuesday, SMC Facilities Planning Director Greg Brown and English professor Dana Morgan will be honored as "EcoHeroes" at a special ceremony. Brown and Morgan will be blessing a new organic learning garden, the fruits of which are to be used in the campus cafeteria.
"Sustainability is a passion of mine and my students," Brown said. "We have about a quarter acre and will be planting everything, fruit trees, climbing vines, everything organic. The students came up with the idea and Dana and I were able to get it going. We're in the right area at the right time for this. Santa Monica is all about environmental consciousness."
SMC will also screen the Oscar-nominated documentary "The Garden," about a community garden in south Los Angeles, on Wednesday.
Thursday will see an Earth Day Festival at the campus Quad and on Friday, SMC volunteers will be working another Beach Cleanup with Heal the Bay.
"This is a great opportunity for our community to not only celebrate the beauty of our planet, but to learn more about how to protect it," Parent said. "It starts with the children."
For more information on this weekend's activities at Heal the Bay's Santa Monica Pier Aquarium, visit its website.
For more information about SMC's Earth Week events, call (310) 434-3909.