By Melonie Magruder
Lookout Staff
April 11, 2011 -- The American Red Cross threw its annual Red Tie Affair at the Fairmont Miramar Hotel Saturday night and the only thing more dazzling than the stars treading the red carpet was the willingness of attendees to reach deep into their pockets for the Santa Monica chapter that has contributed so much to the nonprofit's life-saving work around the world.
Betty White Receives Crystal Cross Awards from American Red Cross President Gail McGovern. Photo courtesy of Faye Sadou
Fire engine red was the sartorial choice of the night and guests were treated to a cocktail party centered around full gaming tables (with "play" money generously provided by the hosts), plenty of bubbly and silent auction tables laden with everything from high-tech Electric Beach Cruisers to "High Maintenance" Mobile Spa sessions.
Council member Bobby Shriver, resplendent in red smoking jacket, joked that he had placed bids, spending "more money than Bob Holbrook, but not as much as (Holbrook's wife) Jean Ann."
Council member Bobby Shriver honors St. John's doctors.
Photo courtesy of Faye Sadou
Red carpet celebrities included rock musician Pete Wentz, Paris Hilton, and actor Josh Duhamel, recipient of the Red Cross Spirit Award for his help raising funds for Haitian and Japanese earthquake relief by organizing youth runs on the beach that raked in hundreds of thousands of dollars.
"I'm not sure I deserve this," Duhamel said while accepting the award. "But my wife (Black Eyed Peas singer Fergie) gave a lot of money to the Red Cross last year, so here I am.
"After Haiti, I wanted to get my hands dirty and really help," Duhamel continued. "When the catastrophe in Japan happened, I was scared to step forward. But the Red Cross has a tremendous group of people. I knew I had to pitch in."
The Rick Crocker Spirit of Volunteerism Award was given to a team of doctors from St. John's Health Center who traveled to Haiti after the earthquake last year, enlisting actor Mel Gibson's plane for transport, and providing emergency services to the stricken residents of Port au Prince. The award is named for a Santa Monica police officer who volunteered for service in Iraq and was killed there.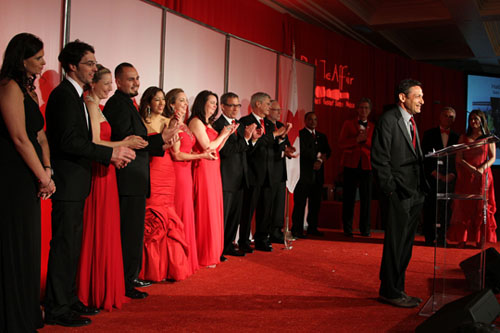 Team of St. Johns doctors honored with Rick Crocker Spirit of Volunteerism Award.
Photo courtesy of Faye Sadou
But the certifiable belle of the ball was octogenarian comedienne Betty White, recipient of the "Crystal Cross Award" for her establishment of animal shelters in emergencies, for creating pet therapy programs and providing pet first aid and CPR classes through the Red Cross.
"Centuries ago, when I was a kid, the Red Cross was always there whenever anything went wrong," White said following a Best-of-Betty video montage and a standing ovation.
"As we've seen from Katrina on, animals are affected by disasters too and you see how thrilled all of us animal lovers are to realize the Red Cross is involved in their emergency care."
A gourmet dinner was provided by celebrity chef Nick Stellino, who said his intent was "not to provide you just another chicken dinner." And Italian singer Romina Arena, who said that her life was remarkably saved by the Red Cross following an attack by a deranged man, belted out her unique brand of "Popera."
National American Red Cross President and CEO Gail McGovern spoke of the extraordinary service the Red Cross provides every year.
"The American Red Cross responds to 70,000 disasters every year – many of them here in Los Angeles," McGovern said. "One in five American households are touched somehow by us. We train 10 million people each year in CPR and provide half of the country's blood supply. And because of your generosity, we will be able to help in Japan in however possible."
With that, the bidding started on live auction prizes that included a date with the entire Santa Monica fire department and South African safaris. Press information officer Bill Bauer estimated that the event pulled in "well over $200,000, with money still to be counted."
The Red Cross was also well represented by its coterie of young volunteers, including Ruth Ramos, a Santa Monica High School student.
"I've volunteered with the Red Cross since eighth grade," Ramos said. "I'll do anything they ask."