By Ann K. Williams
Lookout Staff
April 9, 2011 -- An explosion next door to a mid-city synagogue, Chabad House, appears to have been deliberately set, police reported Friday.
Friday's report contradicted earlier official statements that the blast had been "an industrial accident."
After 24 hours of forensic analysis, bomb technicians and detectives came to the conclusion that the blast that threw 300 pounds of concrete through the roof of a house at 17th and Broadway streets, appears to have been deliberately constructed, Santa Monica Police Spokesman Sgt. Jay Trisler said.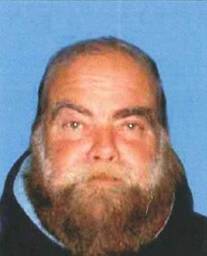 "Ron Hirsch, aka Israel Fisher"
The police investigation indicated that the materials used in the device are linked to Ron Hirsch, a transient "known to frequent synagogues and Jewish community centers seeking charity," Trisler said.
Hirsch, also known as Israel Fisher, was born in 1950, is 5 feet 7 inches tall and weighs 207 pounds. He has brown hair and green eyes.
Hirsch is considered extremely dangerous.
He is being sought on state charges of possession of a destructive device and unrelated local charged, and federal investigators are also interested in questioning him.
No known motive for a deliberate attack is known at this time. A joint investigation by the Santa Monica Police Department, the FBI, the ATF, the Los Angeles Police Department, the Los Angeles County Sheriff's Department and the Santa Monica Fire Department is ongoing.
Anyone with information as to his whereabouts is urged to contact the investigative agencies. The Santa Monica Police Department's Watch Commander can be reached 24 hours by calling 310 458-8427.
If you wish to remain anonymous, you can call WeTip at 1-800-78-CRIME (1-800-78-27463), or submit the tip online at www.wetip.com. You will remain completely anonymous and may be eligible for a reward, up to $1,000.00, if your information leads to an arrest and conviction.
Or, anonymous tipsters can contact Crime Stoppers by either calling (800) 222-TIPS (8477) or by visiting their website at www.lacrimestoppers.org. To text an anonymous tip to Crime Stoppers, please view their webpage for detailed instructions. If the information leads to an arrest, the tipster is eligible to receive a reward up to $1, 000.00.