By Gene Williams
November 11 -- It's an unusual sight for sunny Santa Monica. So it's a good bet that more than a few visitors will be surprised to find an 8,000-square-foot outdoor ice skating rink in the middle of Downtown.
But, then again, this is an unusual city.
ICE at Santa Monica returned for its second holiday season Friday in what is usually a parking lot at 5th Street and Arizona Avenue.
And while initial attendance early that day was light, the few dozen kids and parents who got first crack at the ice were clearly having a blast.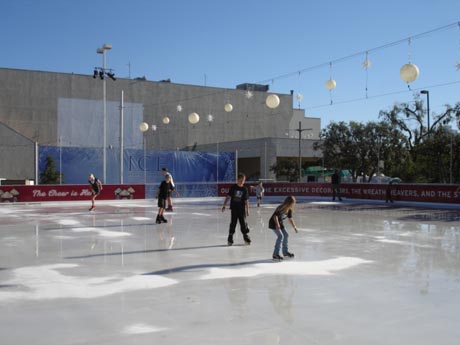 Opening day at ICE (Photos by Gene Williams)
"We want it to be a fun, affordable and healthy way for people to enjoy downtown Santa
Monica," said Debbie Lee, marketing director for the Bayside District Corporation, which runs the Downtown.
"The thing is that once you get on the ice, it doesn't matter how old you are, you just can't help but smile," Lee said.
Part of Bayside District's elaborate Winterlit holiday program, ICE at Santa Monica will be open from 10 a.m. to 10 p.m. every day through January 19. Admission including skate rental is 10 dollars.
The season really kicks off Thursday when opening ceremonies at 6 p.m. will feature City officials including Mayor Herb Katz, Fire Chief James Hone and others, along with 20 elementary-school aged girls performing a synchronized skating routine. Some celebrities might show up as well.
But some enthusiastic skaters just couldn't wait until then.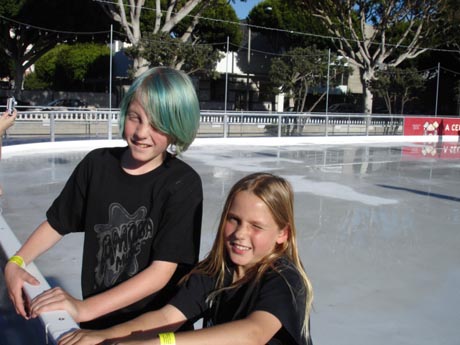 Seanie Prendergast and Shelby Wolf
On Friday, 10-year-olds Seanie Prendergast and Shelby Wolf got to the rink as soon as they could. They both go to SMASH and their classes had let out early.
"We came almost every day last year," said Shelby.
"It's really fun," said Seanie.
"At night especially," added Shelby, as the pair hurried to get their skates on. Shelby had to go back to get different skates – her feet had grown since last season.
Soon they joined others circling the slippery surface beneath a clear sky and festive holiday decorations strung overhead, skating to the sounds of pop-rock oldies from the 50s and 60s.
Last year's ICE drew some 30,000 skaters. Since the rink will be open four weeks longer this year, Bayside officials are expecting even bigger numbers this time. ("Fantasy on Ice," October 11, 2008)
For more information about ICE at Santa Monica and other Winterlit programs, visit the Bayside District Corporation's website at www.thirdstreetpromenade.com
To schedule a birthday party or small corporate event at ICE at Santa Monica, call 310-593-3517 or email icerinkevents@yahoo.com
ICE at Santa Monica is sponsored by the Bayside District Corporation, Starbucks, Holiday Inn, Fred Segal, HLM Law Offices and others.