By Jorge Casuso and Vince Basehart
Staff Writers
July 12 -- Some are known for cooking up variations on old dishes, others for concocting new dishes of their own. One even claimed his place on the culinary map by not cooking at all.
Yet, whether their cuisine is traditional or nouveau, whether their reputations have grown locally or spread far and wide, one thing is certain – some of the best, most original chefs in the country are right here in Downtown Santa Monica.
The Lookout visited five of the growing number of chefs who have made Santa Monica a dining destination to learn what makes them tick and why they've chosen Bayside as the place to exercise their art.
Mary Sue Milliken and Susan Feniger

You can work up an appetite just talking to Susan Feniger, who, along with Mary Sue Milliken, owns the Border Grill on 4th Street in the heart of Downtown Santa Monica. Feniger is the dark-haired half of the nationally recognizable "Border Girls."
Susan Feniger and Mary Sue Milliken

"We talked a lot about doing Thai, Indian, Vietnamese, even a Japanese noodle shop," Feniger says. Luckily for Santa Monicans, America's most prolific purveyors of "modern Mexican" settled on Border Grill. That "taco stand," as Feniger wryly describes it, has been packing in locals and tourists alike since 1990.

After working together at Chicago's Le Perroquet 20 years ago, Milliken and Feniger left on separate pilgrimages to France, vowing they would some day work together at their real love, rustic Third World street food.

That's about as far away from foie gras and consommé as these classically trained French chefs could get.
After much international travel, and a turn by Feniger at Wolfgang Puck's LA-based Ma Maison, it felt natural for the duo to set up shop in the multi-ethnic Santa Monica area to explore their love of exotic, bold flavors. Their first hit, City Café in Venice, served everything from curry to Cuban sandwiches. After outgrowing that space, and then another, they finally landed at their current 4th Street digs to focus solely on modern Mexican cuisine.

"Santa Monica was a perfect fit," Feniger says. "It was exactly what we were going for. It has the laid back feel of the beach while still being in the city."

When not running their Border Grill restaurants (including one in Las Vegas) and Ciudad, their downtown LA homage to Latin cuisine; churning out a dizzying array of cookbooks and appearing on radio (including occasionally, KCRW), the "Border Girls" may be found at Santa Monica's farmers markets shopping for inspiration or providing samples of their favorite recipes such as pomegranate lemonade. They even regularly travel to Mexico to gain further insight into their favorite food.

"Latin culture really speaks to us," Feniger says. Luckily for Santa Monica, it speaks volumes.
Vince Basehart

Daniel Snukal

An avid guitarist, Daniel Snukal likes to compare cooking to playing music. Every player has the same notes to hit, but it's the choices, the combinations, the nuances that distinguishes one guitarist from another.

"You play around and you get different chemical reactions, you see what you get right," says Snukal, who opened 3 on Fourth in Downtown Santa Monica ten months ago. "Sometimes it's the idea, sometimes it's the technique. Kitchens look the same. You have the same notes to work with."
Daniel Snukal (Photo by Jorge Casuso)
Snukal's daily choice of culinary notes is dictated by the buyer who scours farmers markets for the freshest, and often most unique, ingredients. Snukal then uses them to whip up dishes he's jotted down on scraps of paper when the muse strikes. As a result, 3 on Fourth's menu changes every day.

The menu dated June 20, for instance, included a smoked salmon, ikura, vegetable pancake with a dill crème fraiche, as well as scrambled eggs with sea urchin, black truffle and crème fraiche.

"Sea urchin is one of my favorite things to eat," says Snukal, whose father always liked to experiment with food. "I have a kind of weird taste. I like liver and sea urchin. Santa Barbara uni is absolutely fantastic."

A native of Canada, Snukal was prodded to open his restaurant in Santa Monica, by his brother, a big booster of the city, he has long called home.

"My brother tells everyone who moves to LA, 'You have to live in Santa Monica,'" he says. "Every space we looked at he said, 'Do you know how far it is from Santa Monica?' I think that people really care about the city."

3 on Fourth has become a popular dining spot for folks who visit or work Downtown. Those who live in Brentwood or the Palisades sometimes drop in after work, preferring to sit in front of a side of sweet potato fries, schichimi togarashi, nori and aioli than behind the wheel in rush-hour traffic.

"I always hope that they enjoy themselves and enjoy the food," Snukal says. "We really focus on if each customer has a good time. You always want more (customers).

The fun is cooking, and the more cooking you do, the happier you are."
Jorge Casuso
Juliano

Juliano is probably the only famous chef who doesn't cook. He's likely also the only chef who puts some of his customers on fasts.

Not only is the cuisine at Juliano's Raw on the corner of 6th and Broadway vegan, and nearly all of it organic, none of it is prepared at temperatures of more than 120 degrees, the highest temperature before your hand blisters on metal.

"I follow the traditional recipes. We make the best Indian food, the best Thai food, Mexican, Japanese, American, only we don't cook, and we use different ingredients," says Juliano, who only goes by his first name.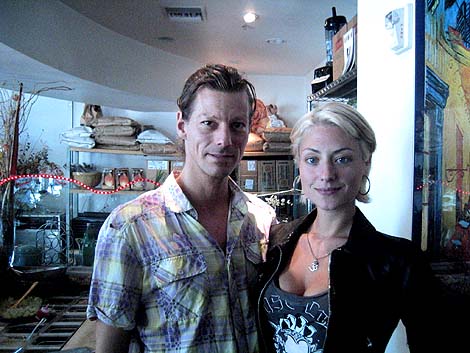 Juliano and Ariel Michaels (Photo by Jorge Casuso)
In the mood for lamb? Juliano's executive chef, Ariel Michaels, will whip up the dish using baby coconut flesh. A burger? Try one made from scratch by blending mushrooms, almonds and sunflower seeds, putting them through a grinder, then dehydrating the patty in a refrigerator-looking oven at no more than 120 degrees.

"I make the mayo from pine nuts, the ketchup from marinara," says Juliano, the son of a Sicilian gourmet who had restaurants in Chicago, Las Vegas and Palm Springs. "For the pasta, we use zucchini."

Juliano gets 90 percent of his ingredients from the local farmers market to insure it's all certified California organic. "We talk to the farmers and ask what kinds of pests and fertilizers they use," Juliano says. The nuts he buys in bulk at the local co-op.

Since moving his restaurant from San Francisco "to get out of the clouds and get to the sun," Juliano's Raw has drawn "every celebrity in town," he says.

Author of "The Uncook Book," Juliano has built an international following, personally preparing dishes for the King of Thailand and the royal family in Saudi Arabia.

"Because the food is so unique and rare, I get flown all over the world to make people well," he says.

Juliano hopes to build an international brand of Raw and plans to open restaurants in Hollywood, Paris, Milan and Tokyo. But he likes it just fine on the corner of a Downtown street lined with new apartment buildings.

"I really like Santa Monica," Juliano says. "They're very environmental. It's a very international city. It's really fantastic that we can bring the new food to the world from Santa Monica."
Jorge Casuso
Raphael Lunetta

"If there's surf, I don't work," chuckles Raphael Lunetta, the chef at JiRaffe Restaurant. Creator and owner of the upscale bistro located at the corner of 5th and Santa Monica, he's as much a fixture on our local waves as he is one of the city's most recognized chefs.
Earning numerous awards, including being named one of Food & Wine's Top Ten Best Chefs of 1997, Lunetta could have chosen to open his restaurant in New York, Chicago or other big dining venues. It just felt natural, though, for the 40-year-old Santa Monica native to do business in his old stomping grounds

."It's the relationships and a loyal clientele" Lunetta credits for his success. JiRaffe, opened with original co-owner Josiah Citrin (now at Santa Monica's Melisse), has attracted rave reviews and a following of serious gourmands since it opened in 1996, making Lunetta an internationally sought-after cooking teacher.
After graduating from SaMoHi in 1985, putting on the chef's toque was, for him, as normal as pulling on a wetsuit. With such influences as a French born mother ("a terrific cook"), childhood summers spent around Provence, and a Sicilian grandfather who owned a deli in East Boston, "I was always around great food growing up.

"I rely on a sophisticated clientele which really gets what we're doing here." The "it" he explains, is his application of classic French technique to every dish no matter how eclectic the ingredients may be.

"Every dish is uniquely designed and thought out. I could get away with putting potatoes or pasta on every plate, but my regulars wouldn't be so loyal."

"Summer is definitely a good time," says Lunetta. In addition to his regulars, the summer months bring the patronage of many tourists who make a beeline to JiRaffe. "I consider it a great compliment when vacationing Europeans come for dinner two nights in a row."

What else does Santa Monica's "surfing chef" like about the summer? "I love the beach, of course."
Vince Basehart
Luigi Fineo

When Luigi Fineo was growing up in Italy, his mother kept the youngest of her five children out of trouble by having him help around the kitchen. He grew up watching her make pasta by hand, especially on Sundays, and bake her own bread. They were lessons Fineo never forgot.

"Sometimes I call her," says Fineo, the Chef at La Botte Ristorante at the corner of 6th and Santa Monica. "I ask her, 'How did you used to do this?'"

After five years in culinary school in Puglia, Italy, Fineo moved to Florence, where he honed his skills at a "very nice restaurant," then to Alto Adige, where he worked at a "top-rated" eatery.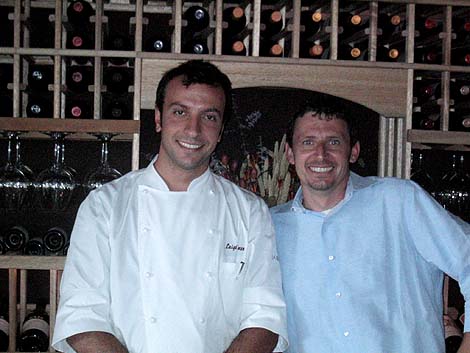 Luigi Fineo and Stefano De Lorenzo (Photo by Jorge Casuso)
Along the way, Fineo started putting together dishes from the different regions of Italy. He also started to experiment, modifying traditional recipes, varying the techniques he learned in his mother's kitchen.

"I like to create," Fineo says. "I used to do traditional dishes. I used to have the old-style soup, green peas and squid. My mother used to cook all together. I cook them separate and mix."

Like all fine chefs, Fineo cooks "by taste and eye." He makes a dish and separates it into two or three portions, each one a different variation, then serves the one he deems the best.

Three steps down from street level, La Botte – Italian for "Wine Barrel" – is literally fashioned from wine barrels – from the floor to the walls to the wine racks.

Owner Stefano De Lorenzo opened the restaurant two years ago after his Piccolo Ristorante Italiano on Venice Beach "got really busy," he says. "The owner of the building became a friend of ours. It was convenient for us to come here.

"It really is beautiful right here," De Lorenzo says. "We get business people, tourists from the hotels, people living around here."

De Lorenzo and Fineo regularly visit the farmers market down the street, where "you find really good things," says De Lorenzo, adding that the menu is adjusted to the seasons.

"In the winter we have food from Northern Italy with heavier sauces," he says. "We use lighter sauces and more fish during the summer."

"I like to eat," Fineo says. "It's my most favorite thing to do."
Jorge Casuso
Editor's note: This article also ran in the Bayside Beat, the monthly newsletter of the Bayside District Corporation