Airport Pharmacy Closes Its Doors
By Ann K. Williams
Staff Writer

August 28 -- Airport Pharmacy, along with its Post Office Annex, is closing its doors Tuesday, another family-owned business disappearing from Sunset Park.

Robert Sakamoto's pharmacy has served generations of his neighbors since he started working at the corner of Pico Boulevard and 33rd Street in 1958 as a student at USC.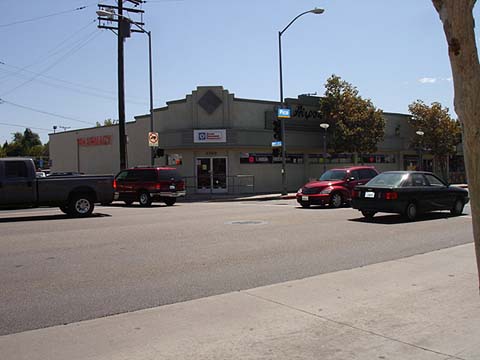 Airport Pharmacy in Santa Monica (Photo by Ann K. Williams)

Nearly 50 years later, he's shutting down for good, unwilling to extend the lease

Sakamoto said he didn't want to wait "for the hammer to come down," instead using the time he had left on his lease to find a buyer for his client files and make sure his employees had jobs lined up.

"We're not selling out, making a lot of big bucks," he said. Instead, his files and much of his inventory has been bought by Rite Aide, where he'll work for three months making sure there's a smooth transition. His employees have been offered jobs at Rite Aide.

His landlord, Jim Spear, confirmed Sakamoto's story.

"I gave him an extension at the same rate, he didn't take it," said Spear, who, with his father Edward, bought the Airport Pharmacy building along with the Trader Joe's building next door back in 1968.

"He's been there for a long time," Spear said. "It's too bad, but time moves on."

Some of Sakamoto's customer's are more upset.

"I think it's lousy that they're closing," said Jane Schneider, who was stocking up on the plastic cups she could only find at Airport Pharmacy for a local school's annual Jogathon. "I hate Walgreens and stores like that,"

"This has been my family's pharmacy for many, many years," said Schneider. "We're just heartbroken to see it go."

Barbara Inatsugu, whose husband Seiji suffers from kidney disease, doesn't want to lose such a "supportive," "caring" pharmacist who takes the time to carefully track her husband's changing medications.

"He's been so helpful," Inatsugu said of Sakamoto. "It's really important when you have a major medical issue to have a pharmacist who really cares about your medication and we'll really miss that."

"He has that personal touch," she said. "He's never too busy or frazzled to give you a smile and say hi."

For his part, Sakamoto said he's going to miss "seeing all the familiar faces. . . seeing their families grow up."

He's gotten used to being a neighborhood confidant and advisor.

"They bring their problems to me, I lend an ear" Sakamoto said. "I'm like a sounding board."

He said he doesn't necessarily have much to say, but when his customers share their problems, "maybe by doing so they figure a way out."

"We've been part of the neighborhood, part of the community," Sakamoto said. His senior customers are especially going to miss Airport Pharmacy not only for his personalized service but because it's within walking distance for many of them.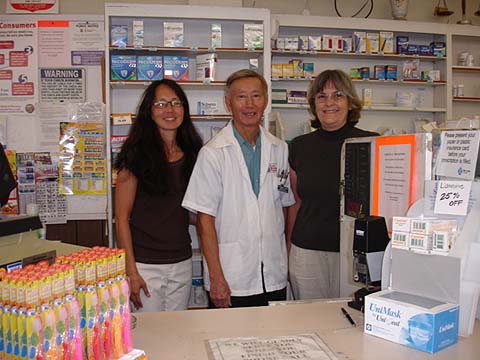 Airport Pharmacy employees Lisa Angelich and Donna Walden with owner Robert Sakamoto
Sakamoto noted a "diminishment of smaller local businesses" as the years have gone by.
"Services drop down when a large corporation comes in," he said.
Long-time customer Joanne Leavitt shared his concerns.
"We're losing a sense of community. It's not just a pharmacy," said Leavitt, who's been a customer since 1979. "It's a place where a kid can go in and get a single ice cream bar. It's where you can stand in line with your neighbors at the post office.
"We're losing another independent business from the community, and there are so few of them," Leavitt said.
She pointed out the increasing number of "quality restaurants" that have opened on Pico Boulevard.
"As they're coming into the neighborhood, they're going to attract other businesses like them," Leavitt said. "I'm just wondering if it's going to be neighborhood-serving or serving the people who go to those kind of restaurants."
Whatever the future holds, Sakamoto plans to look for a job.
"It's unusual for me to be on the other side of the fence," he said.
His sons, daughter and daughter-in-law have followed in Sakamoto's footsteps and are all trained pharmacists working at hospitals and health centers around the County.
"Maybe I'll go get a job with them," Sakamoto said with a chuckle.