Roots Music to Rock the Pier Thursday
By Lookout Staff
August 23 -- Roadhouse rock and country fiddle should add up to a swinging time on the Santa Monica Pier at a free concert Thursday night.
The lineup features the Holmes Brothers, a band that mixes Saturday night roadhouse rock with the gospel fervor and spine-tingling harmonies of Sunday's church service. Their years together make for telepathic musicianship that exudes a boundless energy.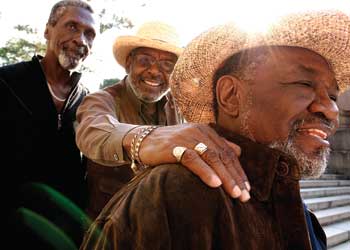 The Holmes Brothers
USA Today calls The Holmes Brothers' vision of American roots music "masterful and convincing", while Entertainment Weekly says, "The Holmes Brothers are juke-joint vets with a brazenly borderless view of American music."
Critics have hailed their chilling harmonies, which resonate with a passion and conviction matched only by their inspired musicianship. They have recorded with Van Morrison, Peter Gabriel, Odetta, Phoebe Snow, Willie Nelson, Rosanne Cash, Levon Helm and Joan Osborne, and toured the world.
The Holmes Brothers will share the stage with singer, songwriter and violinist Carrie Rodriguez, whose simple goal to get a gig playing fiddle with somebody great, be on the road and make a living has been far exceed in five short years.
Rodriguez was discovered at Cheapo Discs in her hometown of Austin, Texas, backing outsider country act Hayseed at an in-store gig during the 2001 South By Southwest music convention.
Carrie Rodriguez
Since then, her unique collaboration with veteran songwriter Chip Taylor has yielded three critically acclaimed albums of duets. Rodriguez has enthralled record buyers and concert audiences throughout North America and Europe.
The Santa Monica Pier is located at the intersection of Colorado Avenue and Ocean Avenue in Santa Monica. The Pier strongly recommends walking, biking and using mass transit to get to the concerts as parking near the Pier is limited. The concerts will offer free valet bike parking to our patrons at the western entrance to the shows.
For those who insist on driving, parking is available in beach parking lots located at 2030 Barnard Way and 1550 PCH, both accessible off Ocean Avenue south of the Pier. The 2030 lot is a short walk up the beach path from the Pier.
For bus information, please visit www.bigbluebus.com and www.MTA.net or call 310-451-5444.
For more information about the concerts, visit www.twilightdance.org or call the Pier information line at 310-458-8900.