Assembly Incumbent Touches Base in Santa Monica
By: Olin Ericksen
Staff Writer
September 22 -- It's been several months since State Assembly member Fran Pavley last met with ordinary Santa Monicans, and the turnout Saturday at a local coffee shop reflected just that.
In what was described by her aids as a "larger than normal" turnout for a meet and greet, scores of Santa Monicans lined up for their chance to speak with Pavley, who is running in November for her third two-year term in the State Legislature.
"I'm very impressed by the large turnout," said Pavley, who is perhaps best known for championing environmental issues. "I've heard from people on a wide variety of issues today."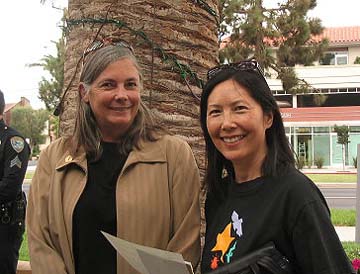 State Assembley member Fran Pavley (left) with local resident Ping Ho during a meet and greet in Santa Monica. (Photo by Frank Gruber)
Pavely partially attributed the crowd's size to Santa Monica's reputation as a politically active community, but also noted that her district's size and total population may play into the equation as well.
The 41st Assembly District doubled its span when it was redrawn two years ago and now stretches from Santa Monica to Oxnard in Ventura County. Pavely, however, said she is confident her staff of ten can still connect with the approximately 440,000 constituents her aids said the district now holds.
"We're very good at outreach," Pavley said "Our staff deals with a lot of these issues since we can't be everywhere all the time."
While the district's growth from its traditional liberal base requires balancing a variety of political views, both conservative and liberal, Pavley believes she can still find consensus.
"I think what unites all of these various constituencies, though, is education and the environmental protections," she said.
That was true Saturday, as several Santa Monican's commended Pavely on her environmental work, including a bill to make California the first state in the nation to regulate Carbon Dioxide emissions from vehicles, known as the California Global Warming Act.
That bill, signed into law under then Governor Gray Davis, may soon be facing a legal challenge by the Bush Administration and automobile manufacturers, Pavley said.
"There are rumors of a legal challenge to be brought by the federal government and automobile manufacturers," she warned. "We think we're technically sound in the legality of the legislation, and will be able to withstand a legal challenge."
In addition to environmental concerns, local voters brought up such issues as traffic circulation, health care, airport noise pollution and funding for area schools and colleges.
The event stretched an extra hour, as Pavely stuck around to meet with each person who waited in line to speak with her.
Aids said this is the last stop in a series to meet with voters in the district as she ramps up her reelection efforts to fend off a challenge from Republican Heather Peters.