Last Rites of Summer Draw Crowds to Beaches
By Lookout Staff
September 6 -- Throngs crowded the beaches over Labor Day weekend, as record heat combined with traditional end-of-summer festivities drew hundreds of thousands to the water side.
As temperatures in the area soared to more than 100 degrees on Sunday, beach lots and
the Santa Monica Pier continued to swell with revelers seeking to escape the heat late into the evening.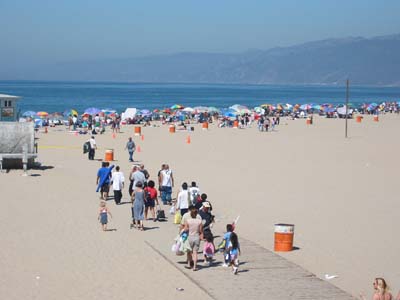 Photos by Cindy Frazier
Freeway traffic was jammed westbound on the 10 Freeway much of Sunday and even after 10 p.m. vehicles were still lining up northbound on Pacific Coast Highway to get into the pier lots.
The vacation influx was repeated Monday, as crowds arrived early at the pier, filling the pier parking lot to capacity well before noon.
On Friday police arrested four drivers at a "Sobriety Checkpoint" in the 2600 block of Lincoln Boulevard.
The checkpoint is part of a national campaign to reduce the number of people killed or injured in alcohol-related crashes and is paid for by a state grant titled "You Drink & Drive. You Lose."