Stairway Concerts Dedicated to the Memory of Deanna Feddersen-France
By Donna K. Stanton
April 13, 2011 -- The Santa Monica-Malibu School District's 62nd Annual Stairway of the Stars concerts, performed Thursday and Friday evenings, were dedicated to the memory of well-loved elementary music teacher Deanna Feddersen-France.
This year would have marked France's 15th consecutive Stairway performance; sadly, she passed away last December surrounded by family and friends following a long and valiant battle with cancer.
Nearly 1,000 young musicians from 15 schools performed in the Stairway concerts. Since France had taught at most of the elementary schools in the district between 1996 and 2010, many of the performers were her former pupils.
The concerts ended with a musical tribute to "Mrs. France," as she was known by her students. Band, orchestra and choir members, elementary through high school, all combined to fill the auditorium with "Somewhere Over the Rainbow" as a montage of family photos were projected on the large screen above.
The finale began and ended with a beautiful cello solo played by France's daughter Madison. The audience responded both nights with a prolonged standing ovation for Madison and her mom. There was not a dry eye in the house.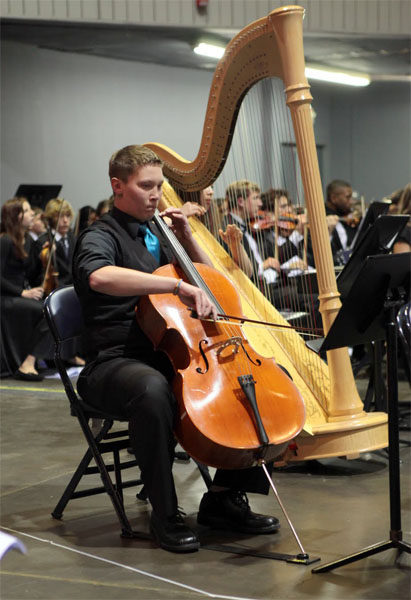 Madison Feddersen dedicates performance to her mother Deanna. Photo courtesy of Roy Persinko
Those who knew France well said she would have loved it – and would have probably been singing along.
France grew up in the midwest and majored in music education at the University of Missouri. After teaching in several school districts in Missouri, Kansas, and Nebraska, she accepted a position with the Santa Monica-Malibu Unified School District and relocated her family to California. In addition to teaching, she played violin with the Palisades Symphony, the Topanga Symphony, and the Scottish Fiddlers of Los Angeles.
France's children were her pride and joy, and she successfully passed on the gift of music by immersing them both from an early age. Her son Matthew played trombone in the Samohi Wind Ensemble and currently attends Syracuse University.
Madison played French horn in the Samohi Viking Marching Band, cello in the Samohi Symphony Orchestra, and is currently a graduate student at Gonzaga University, specializing in the education of special needs children.