By Frank Gruber
June 14, 2010 -- Last week when the Santa Monica City Council began its review of the draft updates to the land use and circulation elements (LUCE) of Santa Monica's general plan a major topic was the city's boulevards. The draft LUCE envisions an important role for the boulevards, converting them from the tired suburban strips they mostly are today into city avenues like those in European capitals. In so doing, the LUCE will channel residential development from existing neighborhoods into mixed-use projects along natural transit corridors.
There is little opposition to the concept, but there are a lot of details for the council to chew on.
One is the nature of the development above the first floor. The LUCE intends for first floors to be commercial, but for most development on upper floors to be residential on most of the boulevards. There are, however, reasons to allow certain kinds of commercial development on upper stories. There are also stretches along some boulevards ("auto row" on Santa Monica Boulevard, for instance) where the LUCE does not allow residential development. Based on comments council members made last week, both issues will be looked at.
As I mentioned, one reason for emphasizing residential development along the boulevards is to relieve pressures to tear down existing housing in the neighborhoods to build new, more expensive apartments or condominiums. This is an important issue for many residents, and it's been a recurring theme of Santa Monica politics ever since the late '70s when development pressures in the neighborhoods led to rent control and the coming to power of Santa Monicans for Renters Rights, which has always fought "condo-ization."
At the meeting Council Member Kevin McKeown emphasized this point, stating that the Council would need to evaluate how "every decision" affected whether development pressures could be moved from the neighborhoods.
After hearing this I'm curious about what Mr. McKeown will say when the council considers how many stories to allow on the boulevards. Two years ago he wanted to reduce by one story the amount of development in the LUCE that would even be subjected to environmental review.
Council Member Gleam Davis also emphasized the importance of moving development pressures out of the neighborhoods, but she pointed out, seemingly in response to Mr. McKeown, that developers were not tearing down existing apartments to build affordable housing. They want to build market rate housing. As Ms. Davis said, any development strategy that does not encourage developers to build market rate housing on the boulevards will fail to give an alternative to building in the neighborhoods.
I expect that the council will work out reasonable compromises about all these issues. What I'm concerned about when it comes to the LUCE treatment of the boulevards is something very basic: sidewalks. The LUCE talks a good game when it comes to turning the boulevards into "complete streets" that encourage walking and that are good to live on, but it doesn't do much about the strips of concrete where that good stuff is meant to happen.
For example, the draft LUCE uses, to illustrate the kind of boulevards Santa Monica should aspire to, a picture of a sidewalk on a boulevard (Pacific Avenue in Santa Cruz). It shows a wide (I'm guessing 20-foot) sidewalk, with benches and street trees, fronted by buildings that are at least three-stories tall.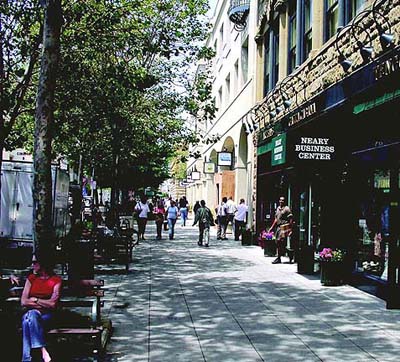 ( Photograph of sidewalk in Santa Cruz from page 2.1-35 of the draft LUCE)
But the sidewalks on nearly all of Santa Monica's boulevards are pathetically narrow. Since it's unlikely that the roadways will be narrowed so that the sidewalks can be widened, we could never get sidewalks like the one in the picture unless developers dedicate space on the ground.
The development standards in the LUCE don't provide a mechanism for this. Although the LUCE says that it "introduces the key concept of providing usable ground level open space as a community asset", it only focuses on promoting "ground floor green open spaces such as small parks and plazas." But when private developers are required to build those kinds of spaces, they typically are either at least semi-privatized or merely decorative.
But sidewalks are free. The LUCE needs a strategy for how to make sidewalks better, and that means wider -- not only for walkers, but also for better street trees, benches and outdoor dining. This could mean trading development rights for ground-floor space dedicated to the public (certainly a "public benefit"). But it may mean only the rearranging of building setbacks the LUCE already requires -- to make them more beneficial.
For example, under the LUCE floors above 35 feet (three stories) have to be set back an average of nine feet; floors above 45 feet need to be set back 18 feet. The purpose is to allow sunlight to reach the street. But this works even better if the whole building is set back -- even if it's not set back as much.
Streets as wide as Santa Monica's boulevards don't truly need setbacks below six stories; instead they can benefit from being "framed" by taller facades that are set back five or ten feet from the property line with the setback added to the sidewalk. Santa Monica already allows facades like this downtown, on narrower streets, with great results -- take a walk on Sixth Street between Santa Monica and Colorado.
It's not that the LUCE should require this format. In fact the format cannot work in all circumstances; some properties along the boulevards are too narrow. But the LUCE should permit the possibility so that the issue can be dealt with in the zoning ordinances that will follow adoption of the LUCE.
I know it's hard to imagine turning Santa Monica's mostly one and two-story boulevards into avenues that are framed by four and five-story facades, but that is how you make great boulevards -- and great sidewalks. If we don't imagine a little more, we're going to be left with less.
"Boulevard" is a French word. Think Paris.
* * *
On the agenda for tomorrow night's council meeting are issues that will likely be controversial: the "community benefits" strategy for justifying more development, housing and employment strategies, and the impact of different land uses (i.e., residential vs. commercial) on the City's budget.
On the latter issue, planning staff will argue that the City can only afford to allow the amount of residential development predicted over the course of the LUCE (an increase of about 10 percent in the number of housing units) if it allows an increase in commercial development that would permit about a seven percent increase in the number of jobs.
At last week's meeting former Mayor Paul Rosenstein made a trenchant comment when he reminded the council that when the council in the '80s approved the Special Office District, which enabled the development of millions of square feet of offices on former industrial lands, the council also believed that it was being fiscally responsible.
But the council did not predict the backlash that would occur, and the no-growth movement that arose in response to the new developments has made it more difficult for the City since then to make reasonable decisions to encourage and allow appropriate business and residential development.
Mr. Rosenstein's words should be a reminder to the council that the staff may have done a beautiful job drafting the LUCE, but all that beauty and logic don't make land use decisions any less political.
_______________________________________________
Meeting notices:
The council's remaining schedule for meetings on the LUCE is as follows:

June 15: Community Benefits, Housing Strategy, Employment Strategy, and Fiscal Impact of Future Land Uses.
June 24: Final EIR, Districts, Activity Centers, Mix of Uses, Heights.
July 1: Sustainability/Monitoring and Implementation, Heights, Deliberation.
July 6: Deliberation, Adoption of Final LUCE/Certification of Final EIR
Frank J. Gruber is the author of Urban Worrier: Making Politics Personal, available at Hennessey + Ingalls and Angel City books in Santa Monica, at City Image Press, and on amazon.com.