By Frank Gruber
The Lookout News Columnist


June 1, 2010 -- The news caught up with three stories I've been writing about the past few weeks -- the School District's parcel tax failed to garner the required two-thirds vote, the City Council raised fares for the Big Blue Bus, but not enough to deal with predicted deficits, and the council approved negotiations of a development agreement for the proposed hotel at 710 Wilshire.

* * *

That 64.25 percent of voters in Santa Monica and Malibu could not pass a $198 per year parcel tax for the schools is yet another echo of the era of public disinvestment and "free market" ideology that descended on America about 40 years ago. (See story of May 29, 2010-- School District Funding Measure Loses.)

The centerpiece of that movement was Prop. 13, which is what mandated a two-thirds vote on the parcel tax. Funny how a law passed by conservatives prevents local voters from enacting a tax for the benefit of their local schools.

Tea partiers notwithstanding, we are, I hope, now transitioning to a period where the benefits of the pooling of economic benefits for the public good will again be obvious, since the dire results of the past 40 years of everyone-for-himself economics have been little or no economic gain for most households and the reality of massive debt, both national and household.

This came after 30 years of well-distributed growth under regulated capitalism and massive public investments, and during an era when the largest generation in American history was in its most productive years.

For now we're stuck with the laws, not to mention the hysteria, that prevent the raising of taxes for public investments, not the least of which would be in the education of the next generation that needs to grow up to be productive enough to pay for the social security and other retirement benefits for the generations that passed all those laws lowering taxes.

* * *

The City Council bit a little bit of the bullet and raised bus fares a bit -- not as much as the BBB wanted, but the council also promised that it will look into other sources of revenue to prevent service cuts next year. The council also authorized various monthly passes and other fare packages for the first time. (See Council Picks Smaller Bus Fare Increase, May 28, 2010 .)

The BBB fares will still be considerably less than the fares on Metro, but the four council members who voted for the lower increase were worried that if they raised the fare as much as the staff wanted, ridership would decrease. It's true that immediately after fares were increased in 2002, ridership declined by about 11 percent.

But in recent years, as the BBB has added service, ridership has increased, to almost the 2002 level. Since 2005 ridership has increased from 20.5 million to 22 million, as the BBB has increased service, notably on the lines that serve Santa Monica College, where the students now pay for a flat pass.

Council Member Kevin McKeown would not vote for the larger increase, piously insisting that the City had to come up with money from somewhere else to keep from reducing service levels, and Council Member Terry O'Day, agreeing with the suggestion of former Mayor Dennis Zane, proposed increasing parking fines to fund the BBB.

Although Messrs O'Day and Zane are transit heroes of mine, inasmuch as more than anyone else in L.A. County they are responsible for the passage of Measure R in 2008 to fund expansion of mass transit, and although I agree that we should look to parking revenues to support transit (as I wrote May 17), I'm going to venture the opinion that their proposal is mistaken on two counts.

One is to fund the transit subsidy with an increase in parking fines. We all know that most parking fines come randomly -- you park your car and lose track of the time. It would be better to increase the cost of parking in general, because that will have the effect of reducing the number of people who drive -- just as higher bus fares reduce the number of people who take the bus.

The other problem with the O'Day/Zane proposal is that the money that comes from parking should not subsidize fares, but rather should subsidize increased service.
As UCLA Prof. Donald Shoup points out in his landmark book about parking subsidies, The High Cost of Free Parking, when cities increase parking rates, the increased revenues should be plowed back into the district where the increased fees are collected, a policy originally and successfully used in Old Town Pasadena.
The point is -- don't use parking revenues as part of a wealth-transfer policy. Instead, if increased parking revenues are used for transit, they should be used to provide more service: (i) to provide parkers in Santa Monica with alternatives to driving, (ii) to give other motorists alternatives to driving to improve traffic for those who "must" drive, and (iii) to bring more transit users in to Santa Monica to work and shop.
The BBB needs both higher fares and parking revenues to improve service. No one benefits more from better service than low-income people. They also need more programs like Metro's Rider Relief Program, which subsidizes monthly passes based on income levels. Now that the BBB is adopting a monthly pass program, this will be possible.
* * *
There is not much for me to say about the proposed hotel at 710 Wilshire. After hearing generally favorable testimony about the merits of the project, the council approved negotiation of a development agreement, while giving staff various suggestions for public benefits to look into. I only want to comment about two criticisms of the project made at the meeting.
One criticism came from a woman who represented the hotel workers union, Unite HERE. One of the public benefit issues is whether the City should require a "living wage" provision like those applicable to City contractors. Inasmuch as I was a supporter of the living wage ordinance in 2002, and I generally support "prevailing wage" laws, this is an idea that appeals to me, although paradoxically as a union supporter I'd like there still to be an incentive for workers to organize.
But what bothered me about this union rep's testimony is that she joined with the few project opponents to say that the hotel was too big. Too big? You mean, like it might have more workers than you can organize? The union rep should have been telling the council to authorize a hotel twice as big, so there would be more jobs for hotel workers.
The other criticism of the project that to me was misplaced came from staff and some of the council members, who thought that the project's frontage on Seventh Street needed to be scaled down because it didn't conform to the low-rise buildings across the street.
Here's a picture of the buildings across the street -- what's so great about them?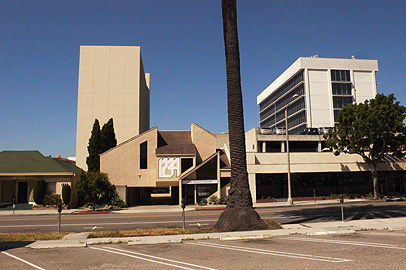 Buildings on Seventh Street, across from the proposed hotel site ,
photo by Frank .Gruber
Downtown Santa Monica has been developing very well now for 15 years as a five and six story district -- the height of those traditional cities everyone loves in Europe. What's this fetish that planners and others have for matching the shabby buildings that happen to exist already? Some buildings -- like the six-story landmark building on Wilshire this project will renovate -- deserve to be saved, and we have a landmarking process for that purpose.
But do we have to conform the future to a mediocre present?

Frank J. Gruber is the author of Urban Worrier: Making Politics Personal, available at Hennessey + Ingalls and Angel City books in Santa Monica, at City Image Press, and on amazon.com.