By Frank Gruber

July 6, 2009 -- Since I spent much of last week's column griping about the activities of one of Santa Monica's neighborhood associations, it's only fair that this week I wallow in gratitude for the activities of another -- that is, for the third annual Main Street Fourth of July Parade organized by the Ocean Park Association.
Fire Chief Jim Hone, Grand Marshall (Photos by Frank J. Gruber)
What a great event. To be quite honest, Saturday morning when arrived early at the staging area in front of the Civic Auditorium I started kicking my self-promoting self when I realized that I should have organized myself enough to insert myself into the parade to promote my new book -- Urban Worrier: Making Politics Personal.

Obviously, I should have marched as the "Urban Worrier."

But once the parade started, it came back to me from last year that 90 of my favorite minutes of the year were spent following along and taking photographs of the paraders and the spectators. Saturday I took almost 200 photographs and I apologize to all those people who don't appear in the selection below. But I'm happy I got a picture of eight mayors, spanning three decades and various "politics," and a picture of most of the tireless organizers at the end of the parade.
Mayor Ken Genser (in car) with former mayor (from left) Judy Abdo, Nat Travis, Bob Holbrook, Paul Rosenstein, Mike Feinstein, Richard Bloom and Dennis Zane.
Parade organizers
The low-riders this year were a special treat -- kind of bittersweet, given GM's fall, since they all seemed to be Chevies. And there should always be a Girl Scout parading with a stuffed giraffe.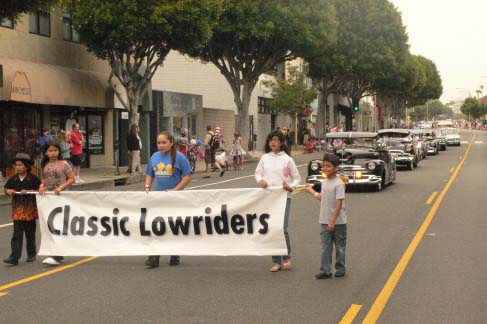 Chevys cruise main
Girl Scout with Giraffe
I also tried (and failed) to take a picture of every banner in the parade -- those I got are in the collage the Lookout is publishing on another page.

The day for us started perfectly with the parade and ended perfectly over at a party at an apartment in the Palisades with a view of the whole crescent of the bay, where we watched the fireworks all along the coast (but not in Santa Monica, of course -- although I did enjoy those at the college the week before). Here is one picture of that.
Pacific Palisades Fireworks (Photo by Frank J. Gruber)