By Frank Gruber

One of my earlier columns, back when Bill Clinton was president, was called "My Favorite Words," and it was a love letter to the Equal Protection Clause of the 14th Amendment: "...nor shall any State... deny to any person within its jurisdiction the equal protection of the laws."

If I have any other favorite words, they are the free speech clause of the First Amendment: "Congress shall make no law . . . abridging the freedom of speech."

Equality and freedom of speech -- they're like ham and eggs to me. So I was surprised when I attended the Santa Monica Malibu Unified School District's forum Saturday on establishing policies for the community use of District facilities and learned that they might at times conflict.
The audience at the SMMUSD's forum on community use of school facilities. (Photos by Frank Gruber)
Some background. The District was having Saturday's forum, and will be having at least two meetings of the School Board in May, on the subject of who can use District facilities and what they can do in them, because of a controversy that has been simmering for nearly three months.

The controversy stems from a comedy program featuring Carlos Mencia that the PTA of Edison Language Academy scheduled as a fund raiser for the dual-language school. The event was to take place in Barnum Hall on the Santa Monica High School campus the evening of Jan. 11.

Then, a week before the event, Elias Serna, a member of the Association of Mexican American Educators, wrote a letter in which he denounced Mr. Mencia and suggested that he and others would picket the show.

From all accounts (and I've heard more than a few), this caused great consternation among members of the school board, and in response (then acting) Superintendent Tim Cuneo cancelled the program on one day's notice. ("School_District_Pulls_Plug_on_Latino_Comedian," January 12, 2009)

Mr. Serna went on to tell the Lookout, and to state in other forums, that the Edison PTA parents were "culturally insensitive" in refusing "to acknowledge Mencia's hate speech." The cultural insensitivity charge -- which in the Santa Monica context is like calling someone a racist -- was then echoed in complaints made by members of the Pico Neighborhood Association, which led to, among other things, angry letters back and forth, heated meetings, resignations from the PTA, and other travail.

Meanwhile, various politically-minded Santa Monicans were inquiring whether the District had denied free speech rights when it cancelled the show. (Just last Tuesday at the City Council meeting on future plans for the Civic Center, Mayor Ken Genser said that he didn't want to make decisions about joint-use projects with the District until he knew what its policies were going to be for the use of theaters like Barnum.)

The District decided to deal with both issues by holding a forum that rather than address specifically what had happened with respect to the show's cancellation, would focus on developing policies for the future use of facilities.

When in doubt, generalize.

The first substantive part of Saturday's program, after the usual nice introductory words about "looking forward, not back," and "we're not here to assign blame," was a panel discussion moderated by former Samohi principal Sylvia Rousseau.

Even though the format of the panel was inimical to a deep discussion -- each of the six panelists could make only brief remarks and there was no back-and-forth between them -- it was during the discussion that the conflict arose between my beloved equality and equally beloved free speech.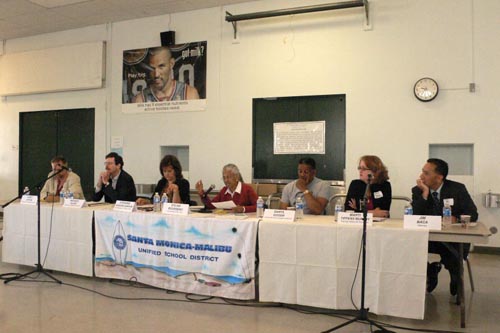 Saturday's panel; from L-R: Carey Upton, in charge of facilities at the District; Michael Klein, First Amendment attorney; Stephanie Sanchez-Graham, educator involved in multi-cultural education issues; Sylvia Rousseau, educator and former principal of Samohi (moderator); Daryl Goode, of the NAACP; Marti Tippens Murphy, an educator involved in programs to teach students how to debate issues responsibly; and Jim Baca, the District's general counsel.
One member of the panel was Michael Klein, a parent with children in the District and a leader in the ACLU of Southern California, who was there, in his words, "to represent the First Amendment." As he saw it, the issue was clear: "government in the form of the school board banned speech," and it was important to make sure it didn't happen again.

That sounded good to me (card-carrying ACLU member), but the panelist following Mr. Klein was a specialist in multi-cultural education, Stephanie Sanchez-Graham, who stressed the role that educators had to play to "redress inequality." It was Ms. Sanchez-Graham's view that in an educational context free speech rights might have to take a back seat to meeting the needs of historically underserved and discriminated-against communities.

Whoa, there it was: speech vs. equality. If I had planned the event, I would have had Mr. Klein and Ms. Sanchez-Graham debate the whole morning, because they framed the issue: to what extent, if any, do we bend the free speech clause in an educational context?

And of course, we do bend it. Both children in public schools and those responsible for teaching them give up free speech rights when they enter the classroom, and those limitations affect not only the "time, place and manner" of speech but also its content.

For example, teachers cannot teach whatever they want to teach, but must follow the assigned curriculum. Their political rights are also limited in school, and most of us would not hesitate to fire a teacher who told a group of students -- from a minority group, for instance -- that they couldn't learn.

As with most constitutional issues, it's a matter of balancing rights and interests, and, of course, as Mr. Klein stated, some rights, like free speech, enable other rights.

Ms. Sanchez-Graham did not address directly the question whether banning Carlos Mencia from Barnum Hall was a proper exercise of the authority of educators (such as to make better the learning environment for Latino kids), but at least she framed the issue in an intelligent way in this part of her argument. I have to say that much of what else I heard at the forum was just so much pabulum about how one should allow "shared values" or "moral purpose" to inform one's use of one's right to free speech.

In Santa Monica, this is all well and good when the shared values are "diversity" or "listening to others," but what if we were somewhere else in America where the shared values are, say, "a woman's place is in the home," or at another time in America, where the moral purpose was, "know your place"?

But so much for generalizing and looking forward. What I sensed at the forum, and what I heard in the "break-out" group discussion I observed -- one of four that occurred after the initial panel discussion -- was that when it came to issues, a lot of people were interested in specifics, and they were not done with "looking back."

The cancellation of Carlos Mencia was still on their minds.

My mind, too. I'm not obsessed with finding fault and laying blame, but there's a difference between blame and responsibility. If everyone acted in good faith, trying to do what was right, then it may not be right or productive to obsess on blame, but there's nothing wrong with identifying mistakes and for people who have made mistakes taking responsibility for them.

In my view -- admittedly from a columnist's luxury box of 20-20 hindsight -- there were a lot of mistakes to take responsibility for in connection with the Carlos Mencia show and its cancellation.

And they will be what next week's column is about.
***
Opera notice:
The ironies are rich, but if the Carlos Mencia controversy is ultimately based on the conflicts that have arisen from the European conquest of the Americas, particularly of Mexico, then Barnum Hall itself will be the scene Sunday night of a dramatic reenactment of the Ur-event in that history, namely Hernan Cortes' conquering of the Aztec Empire ruled by Montezuma.

That's because the celebrated Long Beach Opera, in its 30th season, will be presenting at Barnum, at 4:00 p.m. this Sunday, April 5, the U.S. premiere production of Antonio Vivaldi's "Motezuma" (apparently that was Vivaldi's spelling). The 1733 opera had been lost for 269 years until it was rediscovered in 2002.

This is an exciting production to be taking place in Barnum, and I hope Santa Monicans support it so that the Long Beach Opera will make performing in the beautiful hall an every year thing.

For tickets and more information, go to the LBO's webpage for the opera. http://www.longbeachopera.org/index.php/2009-season/motezuma