Santa Barcelona? Barca Monica?
By Frank Gruber
Longtime readers of this column know that when it comes to vacations, I have had some great luck when it comes to relatives. Years ago my parents bought a farmhouse in the Umbria region of Italy, and my wife's mother has the admirable penchant of taking her whole family to faraway places for gatherings of the clan.
This summer I combined both good fortunes: I am writing this from my dad's house in Umbria, and last week I was in Barcelona with my in-laws.
I had a special motivation for going to Barcelona, although nothing my mother-in-law knew about. It involved Santa Monica.
Perhaps six or seven or eight years ago, I attended a public workshop in the early stages of the planning process for revising the 1993 Civic Center plan to take into account the City's purchase of 11.3 acres of land from RAND.
At the workshop I heard a resident say that she thought Santa Monica should be ambitious about the Civic Center. She had recently visited Barcelona, she said, and she wondered why we couldn't do something wonderful and Barcelona-like there.
What struck me, and the reason probably that I remember this, was that this resident was a North of Montana activist whose reputation was as someone who was against building much in Santa Monica that was bigger than whatever building the new building was replacing.
I would characterize her as the kind of person, if not one of the very people, whom Council Member Bobby Shriver is talking about when he says that when he bumps into residents getting coffee they all tell him they don't want tall buildings.
It had been years since I had visited Barcelona, but I knew that it was rather taller and denser than Santa Monica, and I wondered what the woman was getting at.
Just how much more dense? While the population density of Santa Monica is about 10,000 per square mile, the overall population density of Barcelona (in 2003) was 15,677 per square kilometer! That's almost 41,000 per square mile, and the density in the central city, where most tourists spend their time, is even greater. (See this website for details: http://geographyfieldwork.com/PopDensity.htm.)
So I looked forward to visiting Barcelona again to find out what might make a normally levelheaded Santa Monican suggest that Santa Monica pattern even a part of itself after Barcelona.
Well, there's a lot to like in the capital of Catalonia. What a week we had. There were eight of us, and my mother-in-law rented an apartment in a new residential district that has arisen since the 1992 Olympics on -- get this followers of the LUCE process -- formerly industrial land. The neighborhood is also near one of the new beaches Barcelona has created since cleaning up the nearby waters for the Olympics.
The apartment, in one of several contemporary, high-rise developments with tall towers in the area, was a three-minute walk from the beach and a five-minute walk from a Metro stop; from there the trains took only ten minutes to get us to the heart of the old city.
That sounds like something people would like in Santa Monica, but my guess is that this kind of development was not what the woman at the workshop was thinking about. Here's a picture that shows the new neighborhood from the perspective of a small park that commemorates an old tower from the industrial era; we were staying in the complex with the high-rise in the background:
Poblenou Water Tower (Photos by Frank Gruber)
Here's another angle, from the beach; this might be what Ocean Park would look like if the City had built all six of the apartment towers there that it originally planned to build in the '60s:
Selvade Mar Beach
I doubt that development like this would be popular in Santa Monica (although the parking is underground!), but one can understand why it's popular in Barcelona -- our apartment had four bedrooms, and the neighborhood was dotted with playgrounds. The planners in Barcelona evidently see developments like this as an alternative to sprawl for housing families with children (and cars -- don't forget the parking, which is hard to find in old Barcelona).
At the July 1 City Council hearing on the LUCE updates to the general plan, Council Member Kevin McKeown remarked that the cities he likes so much in Europe for their transportation systems and generally good urbanism don't provide much guidance to Santa Monica because they probably were never "open air beach towns."
Barcelona certainly has a wonderful transportation system; everyone uses the ubiquitous Metro (trains are clean and run every three or four minutes) and there are buses and trams all over the place, as well as bike lanes, and the city has a bike borrowing system (called "Bicing") like the much talked about Velib system in Paris. Here are some photos of what Barcelona does for cyclists: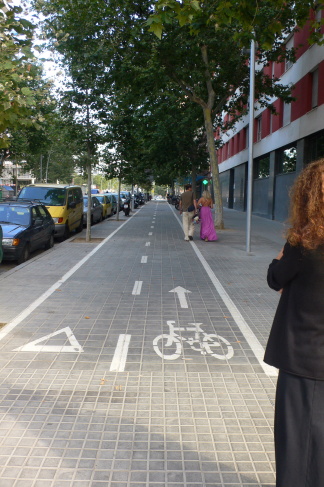 Bike Lane
Bicing Drop
It's true that Barcelona didn't start out as a beach town (although who knows, perhaps that's why the ancient Romans settled there), but when it comes to beaches, they do one thing that I wish Santa Monica would emulate -- every 100 yards or so there is a café right on the beach that serves beer, wine, etc. Here's a picture of one that was near our apartment: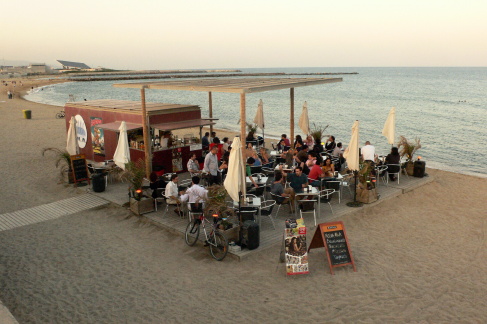 Selvade Mar Beach cafe
I didn't notice any public drunkenness, but there was a nice vibe on the beach until it got dark around 9:30. I got the feeling that the people who worked at the cafés helped police the beach.
But let's face it, contemporary 20-story apartment towers and alcohol on the beach aren't going to happen in Santa Monica. I suspect that the woman at the Civic Center workshop had been charmed, as all us tourists are, by the beauty of the old city, the "Ciutat Vella," or by the "Modernisma" apartment buildings of Antoni Gaudi and his contemporaries from the turn of the last century, or by the dynamic life on the fashionable streets of the Eixample district.
But then, when you walk around those areas, it's hard to imagine what she was thinking of when she said that Santa Monica should emulate Barcelona. For instance, here's a typical street -- actually one of the few straight streets -- in the Ciutat Vella: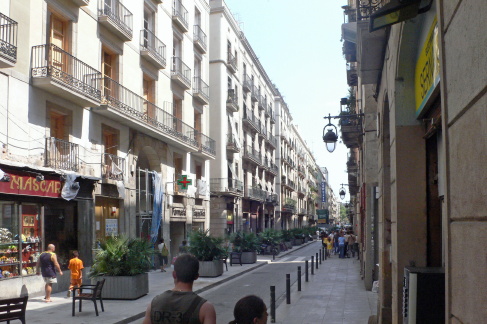 Old City Street
Pretty nice, as streets go. But if someone proposed building something like that in Santa Moncia, can you imagine what Planning Commissioner Jay Johnson would say about the "canyonization?"
And here's a picture of a typical corner-situated apartment building in the Eixample:
Eixample Apartment
That's a lot bigger than anything even talked about in the LUCE framework for an "activity center" node on one of our boulevards. What would Council Member Ken Genser say about it?
So what's my point? Am I just making fun of this woman, who thought that we could build a little of Barcelona in a city where residents like herself commonly equate four-story buildings proposed to be built here to skyscrapers in Hong Kong, or believe that "open space" is the highest form of urban development, or equate dense traffic to torture?
No, I'm not. This woman's views, contradictory as they are, reflect a genuine truth about Santa Monicans that I admire and wish that more people -- especially members of the City Council -- would understand.
Sure, if you ask residents about traffic congestion, they are going to tell you they don't like it. If you ask them about skyscrapers, a lot of them are going to say Santa Monica doesn't need them.
But that doesn't mean that traffic or building heights are the sole measures that they have for what makes Santa Monica a great place to live, or the sole criteria we should use for deciding on our future.
If you ask them, the same people might say that they also want a vibrant street life, and that they know it requires density, which necessarily leads to more traffic.
They might also say that they oppose sprawl, both for environmental reasons and because they know that it adds to regional traffic, and that they want more people who work in Santa Monica to be able to live here. And they are sophisticated enough to tell you that since there is no more room in Santa Monica or other "built-out" urban areas to build houses, they know that building more housing here means building more apartments, sometimes in buildings more than two stories tall.
The fact is that all these complicated attitudes are reflected in the responses the City has received from residents in the course of the LUCE update process. Yet, that's not what you hear if you listen to how some council members -- Council Members Genser, McKeown and Shriver come to mind -- summarize "what everyone knows" about Santa Monicans.
Those residents and politicians who insist on distilling the views of Santa Monicans to the dumbed down, lowest common denominator of conventional wisdom, under the guise of reflecting the public will, are the ones who in fact show the least respect for those who live here -- who are smarter than they think.
After all, some of them have been to Barcelona.
* * *
Apropos of Santa Monicans who have been to Barcelona, here's a final image: Frank Gehry's fish sculpture for the '92 Olympics.
Gehry fish
What do we need to do to get one of these?