Transported
By Frank J. Gruber

It's been too hot to be too bothered by anything local these past couple of weeks and since members of the Pico Neighborhood and the City and the police are starting to say constructive things to each other, I thought I would make this a happy column.
For me there has been a bright side to the heat wave. My family has lived six years overlooking Los Amigos Park, directly in the path of the arctic westerly winds that usually start blowing around four every afternoon, and this summer, for the first time, we have eaten dinner outside.
Not that I'm complaining about the breezes -- far from it. But until this week I never thought I'd miss the marine layer.
Last Wednesday the L.A. Times ran a graph showing average temperatures in L.A. since 1880. The highest averages were reached in the early 1980's, which was interesting to me because it confirmed my recollections. I met my wife in the summer of 1981 and I remember that nearly every night it was so hot that I'd come home from my job in Century City and we would immediately throw on our bathing suits and walk to the beach.
We both lived in Venice. My future wife lived off Rose Avenue. We'd take a dip and then head back to her place and make dinner. That's how we courted, and maybe I can thank the heat for my marriage.
But long ago we stopped going to the beach summer evenings to jump waves, and I figured it was just middle age. But maybe it hasn't been hot enough.
Until now, that is.
So aside from reveries, what's to be happy about?
Trees, for one thing.
There's nothing like a shady tree to make a sidewalk friendlier on a hot day, nor like a row of trees to make an ugly boulevard not so ugly.
I have been watching street trees grow up for about 20 years in Santa Monica and it's gratifying to see that some trees that I knew as saplings are now approaching maturity, while others of more recent planting are entering adolescence. Of course it was sad when the City had to remove the old and decaying eucalyptus trees at Los Amigos Park and elsewhere, but then in everything there is a season, right?
What has made me most happy is that recently I have noticed an up-tick in the planting of trees in empty tree wells, no doubt related to the City's hiring a community forester a few years ago.
The street that can and does most benefit from trees in Santa Monica is Lincoln Boulevard. On some blocks there are good stands of trees, and the contrast between Santa Monica's somewhat urban-forested Lincoln and Lincoln in Venice, dramatically shows what trees can do to humanize the "crudscape," to use an expression coined by James Howard Kunstler in his book, The Geography of Nowhere.
A stand of adolescent trees on Lincoln. (Photos by Frank Gruber)
Nonetheless, it has always annoyed me that the City would let any year go by without replanting every empty tree well on Lincoln, and I am pleased to report that this spring the City seems to have replanted them all.
A new sapling grows on Lincoln.
I have never understood why candidates for City Council don't run on a platform of zero tolerance for empty tree wells. The sad thing when you look at a young tree is you have to ask yourself, why wasn't a tree planted there 20 years earlier, or if there was a tree, who killed it or let it die?
It's probably for the same reason that they never run on a platform of providing decent bus shelters. More parking, yes, better bus shelters -- who cares?
Meanwhile, the trees that the City planted on Pico when it redesigned that boulevard in the late 1990's are taking shape and starting to cast some significant cooling shade.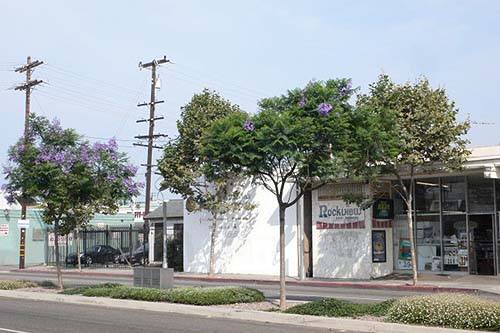 Growing trees on Pico.
Speaking of the trees on Pico, has anyone else noticed that the jacaranda bloom everywhere has been terrible this year?
Downtown Santa Monica has seen a lot of tree planting. The original trees planted when the Promenade was built in 1989 are now almost 20 years old and nearly mature.
The trees that the City planted as part of the transit mall five years ago are growing even faster.
They are already providing excellent shade for downtown's boulevardiers.
* * *
Another reason for my present happiness are the new Metro Rapid articulated buses. They look cool -- they're designed with a train-like look (note the wheel covers) -- and cool buses make me happy. And last week I finally rode one.
I had an errand near Vermont and Wilshire, and I dreaded the drive. I checked traffic at sigalert.com -- the 10 had lots of red dots. Ugh. I decided to check mta.net and see how long the MTA predicted the trip would take by bus.
The prediction was one hour on the Wilshire Metro Rapid if I left before 10 a.m. I decided to try it -- I figured driving would take at least 45 minutes each way in any case, and I could get some reading done on the bus. I walked to Fourth and Wilshire from my office, and in a few minutes one of the new buses arrived.
Tuesday was a heat wave day, but whoever designed these buses engineered some major air conditioning. I thought I'd catch pneumonia.
I took a seat in the back section to see how the ride was -- I had been warned that on bad road surfaces the tail end of an articulated bus could bounce a lot. But it wasn't bad. In fact, I was able to read better than I usually can on a bus. The long carriage did seem more like a train, and I finished all my reading just before we arrived at Vermont -- a trip that took exactly one hour.
In case you are wondering, everyone on the bus was "presentable" -- it was just like taking a bus in Manhattan or in Europe. The Wilshire Metro Rapid bus proves that middle-class Angelenos will ride buses if the buses are convenient, meaning reasonably quick and frequent. There were even young student/tourist types who exited at Fairfax, no doubt to see art at LACMA.
On the way back I decided to try the Red Line subway to get from Vermont to Western. I had purchased a $3 all-day pass, so I didn't have to bother with the inscrutable ticket machines at the subway station. A train came in a couple minutes. But as evidence of how seldom I ride the subway, I forgot that there was a station between Vermont and Western, and I mistakenly exited at Normandie.
No matter; I got to walk around the busy Normandie and Wilshire corner looking for a place to buy a magazine to read on the way back. It was lunchtime on a hot day and office workers were swarming over all the outdoor restaurants and lunch places. I am sorry I didn't have my camera because it just wasn't a scene one associates with L.A.
I was transported.