Eddie Lopez: One of Us
By Frank Gruber
When I arrived at the Greek Theater at Santa Monica High School for Eddie Lopez's memorial service, the Santa Monica High School orchestra was playing an opening processional. The last time I had heard the orchestra was at its concert at Disney Hall last month. The last time I had been at the Greek was for the Kanyé West concert in December
I didn't know Eddie Lopez, but I almost knew him. My son says that he went on the John Adams Middle School Washington, D.C. trip when they were both in eighth grade, so it's possible we met at the airport when the parents of the kids on the trip saw their children off for their big adventure.
This wasn't the first time I had been at the Greek in these circumstances. In 2001, I attended the memorial for Deanna Maran, another high-achieving SAMO 10th-grader who was murdered.
The murder of Deanna Maran had a "man bites dog" quality, because of the upscale demographics of both its location, a big house in Westwood, and the killer, a disturbed teenager from a wealthy family who killed herself the next day with an overdose of sleeping pills.
The murder of Eddie Lopez, however, is all too familiar: working class, minority teenager gunned down on a city street. The tendency is for white, middle-class, suburban Americans, including some who live in Santa Monica, to regard such victims as "the other," but what do you do when the other takes honors courses, participates in sports, and goes on the school trip to Washington?
At the memorial service I sat next to someone who works for the City and whose daughter goes to SAMO. Afterwards, she sent me this:
"When my daughter was about three, she came across a dead bird. In her dismay and bewilderment, she asked me why the bird wasn't moving. I knew at that instant that it was my time to explain that all living creatures die. After my hopefully straightforward response, her eyes widened, and she asked: 'But I will never die, will I?' My heart twisted as I knew that I was to witness her first loss of innocence. I assured her that while we all die at some point, she would live a very long time, way longer than she could even imagine.
"Today, at Samohi, I saw a distant figure across the crowds of the outdoor theater where a couple thousand students were grieving Eddie Lopez. This distant figure, clutching a baseball jersey just given to her by the high school baseball team, was Eddie's mom. After comforting my daughter and her friends after the service, I walked silently back to my desk at City Hall -- passing students sitting silently with tear-soaked eyes at the Big Blue Bus stop.
"I thought back to my promise made long ago to my daughter, that she would live so long that she couldn't even imagine it. And then I thought of that distant figure, Eddie's mom, who no doubt was asked the same innocent question by Eddie long ago. No doubt, while perhaps she answered him in Spanish, she also assured her son that he would live a long, wonderful life. No doubt she, as I, believed that to be true. No doubt, she trusted that a community like Santa Monica would be a safe and nurturing place for such a treasured child.
"Walking back to work, I searched the Santa Monica sky for the dozens of white doves that were released during the service. They had circled the school campus several times, looking out of place next to the seagulls. Within a few minutes these doves, symbols of peace, turned from glistening white to a hazy grey in the distance. Then they were gone."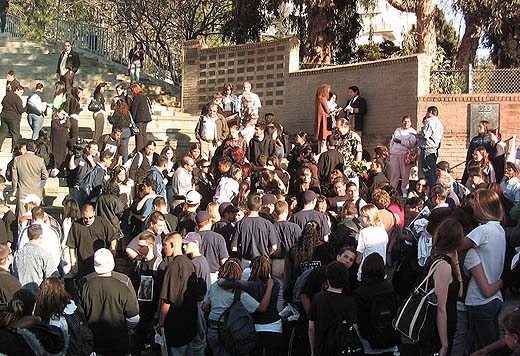 Mourners surround Arminda Lopez, Eddie Lopez's mother, after the Memorial Service at the Greek Theater last Thursday. (Photo by Frank Gruber)
Reliable sources say that there are only a few handfuls of active gang members left in Santa Monica. I don't know what they are doing to cause gang members from L.A. to come here and shoot up the place. Are Santa Monica gangsters shooting up Mar Vista or Venice? Maybe they're not doing anything and maybe the killers don't have a motive even their sociopathy would countenance. It's the kind of thing I'd like our police to tell us.
In any case, the inhumanity of these murderers is only matched by their cowardice. It may take nerve, but it is not courageous to shoot a fifteen-year-old holding a taco, or to shoot at a student riding his bike home from school, or to shoot unarmed people at a birthday party, or, to go back a few more years, to shoot them in a clothing store. It's terrorism.
After the shooting near Edison Elementary in 2004, the City Council declared that confronting gang violence would be Santa Monica's highest priority. In February 2005, the City, jointly with State Senator Sheila Kuehl, convened a well-attended community forum to consider what to do. Then, a week or so later, just before the scheduled follow-up session, came the double-murder at the Moose Lodge, and the follow-up was delayed until April.
A couple weeks ago, with timing that now seems brutally ironic, the City and Senator Kuehl announced that the next public meeting, to evaluate progress, would take place Saturday, March 18. The "Action Partners" who made commitments last year are to report on their progress. Anyone interested in Santa Monica's truly most important issue should attend.
Not that anyone will hear any magic bullet solutions.
The murder of Eddie Lopez happened to occur at the same time that some parents and others were challenging the administration at Santa Monica High School and at the district about their policies regarding minorities. One thing that should be clear, though, is that although his murder was a tragedy for the school, it was not a tragedy of the school.
The Santa Monica schools served Eddie Lopez well, and he served them well in return. There is a lot of hogwash promulgated from both the right and the left about how immigrants today, particularly Mexican immigrants, are somehow different from prior generations of immigrants, and that they and their children can't or won't become "Americans," or that the majority culture won't let them be both Americans and "who they are."
Eddie Lopez, in his short life of fifteen years, showed that the son of an immigrant could be a good student, play baseball and football, go to Washington on the school trip, and yet still speak Spanish to his mother and grandmother.
Eddie, I wish I'd known you.
---
Details on the Community Forum Update: Saturday, March 18, 2006,10 AM to Noon, John Adams Middle School, 2425 Sixteenth Street. To RSVP or for more information, contact Hilda Garcia at (310) 441 - 9084 or hilda.garcia@sen.ca.gov