More Touristic Experiences
By Frank Gruber
After Prague we flew to Rome, picked up a rental car and drove to my parents' house in Umbria. We arrived at dusk and right away I ran over the sharp edge of a broken brick and punctured a tire.
That wasn't a disaster, as my folks have a car and we weren't going anywhere. On the plus side, the next day I got to show my son how to use a jack -- one of those important father/son things. We removed the tire and my dad drove it and me to Todi, the nearest "big" town, to get it repaired.
In Italy I elevate the most mundane tasks to touristic status, which can aggravate my wife, who believes a touristic experience should involve seeing something new and perhaps edifying. But even frying vegetables in oil or hanging laundry in the sun can work for me if the vegetables, the oil or the sun is Italian. I've pulled Italian weeds and considered them recreational.
But taking a blown tire to be fixed taxed even my broad definition of the touristic. It didn't help when the tire turned out to be beyond repair, and it took two days and 120 euros to get a replacement. But then, as I said, we weren't going anywhere, and the drive to Todi does pass by some old castles that are being turned into bed and breakfasts.
Our stays in Umbria fall into a daily routine of talking about what we're going to eat, shopping for what we're going to eat, cooking what we're going to eat and then eating, but this year there was a new element. Henry, my 15-year old son, hooked up with some kids in the village who had a soccer team.
This happened because we were there in August, when the children who grew up in the nearby villages come home for vacation from the cities they have moved to and bring their children, the grandchildren of the retired contadini. Otherwise, there aren't that many kids around our village, which fairly represents Italy's demographic bust. We also knew an Italian/American family with bilingual children who were vacationing, too, and through their kids Henry found the soccer players and was able to communicate with them.
The team played late in the afternoon, when the weather cooled a bit, on a small campo sportivo that consisted of a half-field with small goals suitable for six-on-six matches. While the idea for Henry at first was just to find some kids to play with and keep in shape, it turned out the local kids were preparing for a tournament against teams from two nearby villages.
So, as a veteran youth soccer parent -- six years or so as a coach in AYSO -- I got to compare youth soccer in small-town Italy with how it works in Santa Monica.
There were differences. For one thing, no one asked for Henry's birth certificate (although I made him take his passport to the tournament just in case anyone suspected a ringer) or asked me to sign a waiver of liability. In fact, there were no adults involved at all until the tournament, where there were two who volunteered to referee.
The team, whose ages ranged from 15 (the upper limit) down to nine, coached themselves. Not speaking Italian, Henry was never sure how decisions were made as to who would play and when, but the process worked; I suppose it provides a metaphor for Italian society in general.
At the tournament things were equally informal. The two refs stood around with their hands in their pockets. In our game, the other team didn't have uniforms, except for one kid, who had the same (red) uniform our team had, but that didn't seem to bother anyone.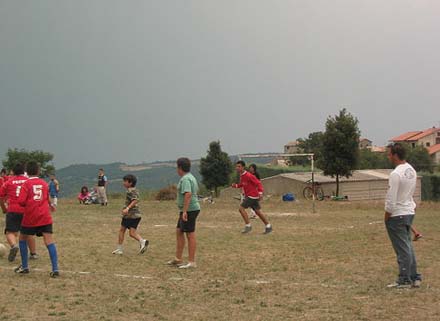 Soccer in Italy: the ref is in the white shirt. (Photos by Frank Gruber)
One element that was the same was the advice from the parents on the sidelines; I learned the Italian for "pass it."
Unfortunately, the squad only played one game before a huge thunderstorm washed out the tournament. Then everyone did what everyone in kids soccer in Santa Monica does -- they went out for pizza.
Young Italian soccer player and parents waiting for the pizza to arrive.
After Italy we stopped for most of a week in Beach Haven, New Jersey. You see, I not only chose parents who have a place in Italy, but also a wife whose mother rents a summer house for a couple weeks on the Jersey Shore, and as a result I'm writing this column on a deck overlooking a sand dune and the beach.
I don't want to imitate Calvin Trillin too slavishly, but I had simple goals in Beach Haven: to cook large quantities of shellfish. A hundred clams one day; three-dozen crabs another. The bonus round came courtesy of my mother-in-law, who surprised me the day I arrived with a seven-pound bluefish to grill.
The remains of the crab.
Beach Haven is a "sleepy beach town" of the sort that Santa Monicans with defective notions of Santa Monica history like to rue the ruination of Santa Monica as. It's the kind of place that enforces a 25 MPH speed limit with funny signs, like "Yes, your car can go that slow."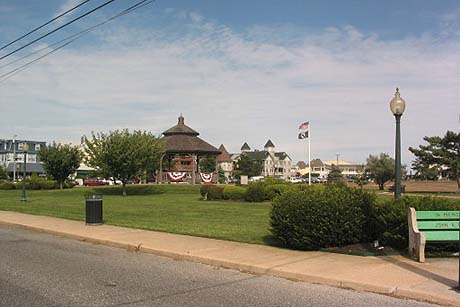 Downtown Beach Haven, New Jersey
Of course, Beach Haven was never the arsenal of democracy or the arsenal of any other form of government. It sits on an island that is so skinny in most places you can see the ocean and then turn around and see the bay.
The only industry I know of is the huge salt-water taffy works, where giant tankers unload tons of sugar night and day. The candy makers mix the sugar with pure seawater in kettles the size of the brew kettles at the Budweiser plant up on the 405. The flames from the open fires light up the sky and the steam from the smoke stacks can, on a clear day, be seen from Philadelphia.
Just kidding.
Beach Haven in the 21st Century
I'd like to say that time has stood still in Beach Haven, because it sure looks like it has, but the Jersey Shore, like Prague, and Umbria, and Santa Monica, and every other nice place in the world, is experiencing a boom. Bigger houses are replacing so many smaller houses that the locals have invented a new form of commerce: the "tear down sale."
Oh well. All vacations must end, and next week I'll be back in Santa Monica watching other people enjoy theirs.