Sounding Good, Looking Good, Feeling Safe
By Frank Gruber
As I predicted a couple weeks ago -- no bull -- the For the Arts fundraiser Friday night was a great party. Rarely has doing good been so much fun.
Due to the vigorous (and hilarious) efforts of auctioneer Tim Van Pelt, a parent with children at Samohi and Lincoln Middle School, $2,600 was the winning bid for a week in my parents' guesthouse in Italy.
The live auction raised more than $17,000. A recording session with the band Venice, who provided entertainment for Ed Foundation supporters both Friday and Saturday nghts, went for $3,500, and when asked, the band agreed to give a second session with the runner-up for the same price.
Superintendent of Schools John Deasy showed he would put his money where is mouth is by bidding $1,900 for a surfboard he coveted, but he was outbid.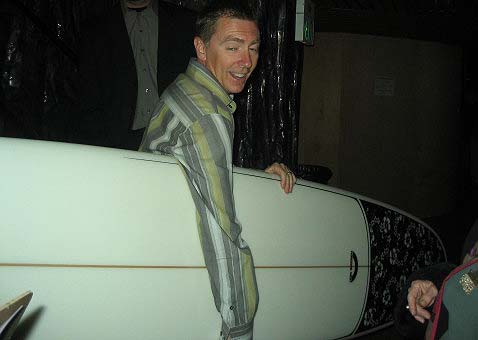 Superintendent of Schools John Deasy and coveted surfboard. (Photos by Frank Gruber)
A consortium of parents put their money where their mouths will be by bidding $3,600 for an eight-course meal Superintendent Deasy will cook for them.
The winning bidders for the week in Italy were a branch of the very extended and vocally fabled Lennon family; Lennon cousins comprise most of Venice, the band, and based on the utter delightfulness of their performance, it may be time for Santa Monica to make a serious effort to steal Venice, the community, from L.A.
How in the name of Abbott Kinney did L.A. get Venice in the first place?
Venice stole the hearts (admittedly, ripe for the taking) of the audience when the band incorporated a solo oboist and a string quartet from the Samohi Orchestra into several songs. The kids beamed and the audience cried out, "Sign them up!"
The Band Venice with Samohi students after the show.
A conversation that put the purpose of the evening in perspective was one I had with Marcia Gecht, a teacher from Olympic High School who told me about the effect the school's new guitar class (initiated this year with funds raised through "For the Arts") has had on Olympic's students.
Ms. Gecht told me that for most Olympic students, the first and biggest hurdle is just showing up -- attendance -- and that the class has had a big impact. She spoke of one girl whom last year she was lucky to see in class twice a week; but this year, since the girl started taking guitar, Ms. Gecht said she's been absent only one day.
So let's get those kids plucking, strumming and blowing in every school and recreation center in the city.
* * *
Saturday morning I attended the Workshop on Gang Violence, the follow up to the Feb. 26 workshop that the City and State Sen. Sheila Kuehl had postponed after the shooting deaths of Hector Bonilla and Jonathan Hernandez. [See news story.]
Besides that double homicide, two other intervening factors affected my thinking about Saturday's workshop. One was that the District Attorney has determined he had enough evidence to warrant charging a young Santa Monican with the death of another young Santa Monica. ("Pico Gang Member Charged in Carter Slaying," April 8)
Another was the Lookout's story earlier in the week about how both crime in general and gang violence in particular had declined in frequency over the past decade. ("Despite Spotlight, Gang Violence Down," April 7)
I've never been to meetings in Santa Monica quite like these two workshops. People were talking about life and death issues, but everyone was so much better behaved than, say, at meetings I've been to where the topic was historic districts or fences and hedges or, dare I say it, traffic.
Both defensiveness on the City's and Police Department's part and finger-pointing on the public's part were at an all time low -- although present to some degree in both cases.
City Manager Susan McCarthy taking notes in a working group.
Most of all, it was refreshing to see the whole spectrum of Santa Monica's political life making constructive suggestions -- and commitments -- together.
Dare I say it, but it did seem that there was assembled, finally, the political will necessary to end gang violence in Santa Monica.
Even School Board member and Pico Neighborhood political leader Oscar de la Torre, who over the years has been skeptical of the City's level of concern about gangs and other ills affecting poor people, took note. At a break partway through the workshop, he shrugged and told me that he thought we had "been here before."
He said that the problem of gang violence would be solved only when the City would "do for the homeys what it does for the homeless;" meaning, he said, to look at the problem regionally, to establish a "continuum of care," to commit major resources, etc.
Yet afterwards, after Sen. Kuehl had held the feet of not only the City and its various departments, but also those of the County Probation Department, the School District, Santa Monica College, the Chamber of Commerce, and the State Employment Development Department, over the fire of committing to specific actions; and after representatives of labor unions, the religious community, and neighborhood groups (the Pico Neighborhood Association and Friends of Sunset Park appearing together) had made their own commitments; and after Sen. Kuehl had committed herself to specific actions and a continuing role in oversight, Mr. de la Torre told me that he was, at least for now, hopeful that a corner had been turned in attitudes.
So, what gives? There is no question that since the shooting outside Edison School last fall, and the community meeting that followed, the tragedy of young people killing young people has grabbed the attention of the community and its political and civic leaders in a way it should have long ago.
Why? If you look back to that meeting at Edison, you see a few interesting things. ( Frustrated Parents Boo Police and School Officials at Community Meeting)
For one -- white people. Edison, even though it is located in the Pico Neighborhood where most children are Latino or African-American, has, because of its dual-language immersion curriculum, a large number of Anglo students, and their parents are the kind who get attention.
They were there that night.
But one doesn't need to be cynical about race and ethnicity. There were others that night who also knew how to articulate what they wanted -- middle-class people of color. I remember vividly a black father recounting, on one hand, how had it was to persuade his son not to wear gangsta fashions and, on the other, how enraged he was at the suspicions his skin color aroused in the Santa Monica police.
Why were they there? For that matter, why did the meeting take place?
After all, after the shootings in 1998, Tom Hayden led a march and vigil -- but to anywhere near the same effect?
One reason is clout. Anyone who follows Santa Monica politics knows that a big story the past few years has been the emergence of Latino activists like Mr. de la Torre, Ana Jara, and Maria Loya as a force in Santa Monica politics.
Maria Loya, Chair of the Pico Neighborhood Association, facilitating a working group.
But I'll throw in another factor, one that's paradoxical. The crime and violence situation in the Pico Neighborhood has improved. There is more hope. And you know what? Hope breeds hope.
One of the working groups Saturday articulated a simple goal for the Pico Neighborhood: that the people living there would be able to say their neighborhood "looked good, and felt safe."
What I heard Saturday was that brown and black people in Santa Monica are no longer willing to accept the violence and other lesser indignities that in this country are commonly considered their lot.