Ungrateful Greens & Fences and Hedges
By Frank Gruber
Congratulations to City Council member Michael Feinstein for beating the rap on what he did with Green Party donations. ("DA Drops Feinstein Case," Oct. 30, 2003)
That the DA found insufficient grounds to bring charges against Feinstein is not a surprise. It was clear to anyone who read the press accounts, particularly The Lookout's series analyzing Green Party minutes and communications, that what they had there was a failure to communicate, not fraud.
These Greens aren't ready for prime time.
What the Greens have plenty of is willingness to bite the hand that fed them. All the local Greens, beginning with Council member Kevin McKeown, Feinstein's Green nemesis number one, owe their political existence to Feinstein.
But Feinstein himself set a high standard for political ingratitude last year when he castigated Santa Monicans for Renters Rights and the living wage movement when they chose not to endorse his hand-picked Green candidate for City Council.
Feinstein and the Greens would be nothing in Santa Monica without SMRR, and they will be nothing in the future if the traditional liberals in SMRR get wise and dump Feinstein in 2004 and then McKeown if he chooses to run again in 2006.
The whole culture of the Green Party is ingratitude toward those on the "old left" of the Democratic Party, organized labor, traditional environmental groups, etc., who have worked hard to counter America's conservative side.
I don't expect Ralph Nader, if he runs, will get much traction in 2004. George W. Bush has debunked the Green mantra that there is no difference between Democrats and Republicans in power.
Ralph Nader seduced a lot of Democrats in 2000, but I haven't spoken to any who aren't willing to vote for whichever Democratic Presidential candidate receives the nomination in 2004.
* * *
Of all those who protest whatever their neighbors and developers want to build in Santa Monica, perhaps the most tenacious is Stephanie Barbanell. A neighbor of hers told me that Barbanell had protested 29 projects over the years, and after "googling" "Stephanie Barbanell" and "Santa Monica" I have no reason to doubt that number.
Barbanell lives on Seaview Terrace, a walk street north of Pico near the beach, and she has sought to obstruct the building of nearly everything in or near her neighborhood.
On a citywide basis, Barbanell's obsession is drinking. She believes Santa Monica is drowning in alcohol, and she protests nearly every permit for selling the stuff, often to absurd lengths. She ran a little wine store on Montana through the regulatory wringer because the owner wanted to host wine-tastings.
What has characterized Barbanell's tactics is an obsession with the details of ordinances, codes, permits, licenses, etc., and a relentless drive to see that the authorities enforce every detail -- every detail, that is, consistent with her interpretation.
Woe to anyone who might seek a variance, or an approval with conditions.
So, it was with some interest that I read the agenda the City published in the L.A. Times last Friday for the November 11 hearing of the City's Zoning Administrator. Jerry Bass, Barbanell's husband who frequently joins in her appeals and protests, was seeking a variance for a six-foot fence and fourteen-foot hedge in the front yard setback of the couple's house.
Bass and Barbanell need the variance because the City's height limit for a fence, wall or hedge in a front yard setback is 42 inches.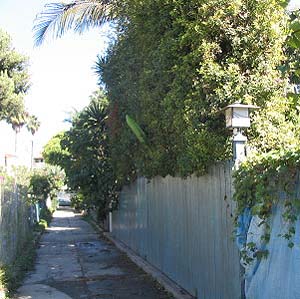 The six-foot fence and 14-foot hedge in front of the Barbanell/Bass house at 16 Seaview Terrace. (Photos by Frank Gruber)
Although the City typically grants only six-inch variances to the 42-inch rule, one can find many illegal fences, hedges and walls in the city because the Planning Department only enforces the law when someone files a complaint.
City Hall was closed Friday and I wasn't able to view the Planning Department's file on the Bass/Barbanell fence. I did speak, however, to some others who live on Seaview Terrace about the course of events that preceded Bass's application for a variance.
For good reason, the City keeps the identities of those who file complaints secret, and no one knew for certain who had filed the complaint. But the neighbors were quite aware of what happened because of the complaint, because the City went on to cite not only the Bass/Barbanell fence and hedge, but also all the other illegal fences on the block.
What happened then is illuminating. After discussing the matter with planning staff, all the other property owners on Seaview Terrace agreed to comply with the code, and about a month ago they cut their fences and walls down to 42 inches.
Newly shortened wall on Seaview Terrace.
The only people on the street who are seeking a variance are the Bass/Barbanells.
On Saturday I went over to Seaview Terrace to take photos for this column. While I was photographing the Bass/Barbanell fence and hedge, the gate opened, and out popped Barbanell and Bass.
I introduced myself and we talked a little about their variance application. I asked Barbanell if she thought it ironic that she was asking for a variance given all the variances she had previously opposed, and she told me she thought it was ironic that the City hadn't allowed her and her neighbors to fence off Seaview Terrace because of high crime near the beach.
Barbanell was carrying a three-ring binder and she pulled a letter from it from Police Chief James Butts, Jr. that she said supported their position that she and Bass needed the high fence and hedge for security.
That was the end of my conversation with Barbanell, however. Apparently she and Bass had exited their house to meet someone, because Barbanell looked past me towards Ocean Avenue and said, "Here's Julie."
Leaving Bass to continue the conversation with me, Barbanell walked up the street to greet Planning Commissioner Julie Lopez Dad. The two of them walked back toward Ocean Avenue to have their own conversation.
Bass is affable and doesn't answer questions with questions, and we talked for about ten or fifteen minutes about his rationale for the variance. Then I left Seaview Terrace by the beach side. As I did, I met up with Barbanell and Dad, who were completing their walk around the block.
I asked Commissioner Dad whether she was meeting with Barbanell to discuss her case for the variance. I told her I thought it was odd that a Planning Commissioner would meet with an applicant before the matter had reached the Planning Commission level.
Dad told me that she was meeting with Barbanell to get data on code enforcement issues.
I was about to ask another question, but Dad said she had no further comment.
---
The Zoning Administrator's hearing on 16 Seaview Terrace (and two other matters) is scheduled for 10:30 a.m., November 11, 2003, in Council Chambers.