He has met the Enemy and he is him
By Frank Gruber
Former Planning Commissioner Kelly Olsen, reminding us of Pogo's famous words, has finally identified the "corruption" that he railed about when he was on the Commission. Turns out that if anyone was corrupt, it was Olsen himself.
As reported in The Lookout last week, Olsen called Council Member Robert Holbrook on July 8, the day City Council was set to vote on Olsen's reappointment. Olsen revealed that in late October 1999 a council member and a member of city staff had importuned Olsen and two other commissioners not to attend a commission meeting.
It's possible that Olsen was delusional, since he apparently thought he could endear himself to Holbrook with this revelation.
The purpose of not attending the meeting, Olsen told Holbrook, was to prevent a quorum and delay a key vote on the Maguire Partners office project at 1733 Ocean Avenue. Any delay had the potential to derail the project because the developer needed to have a building permit by the coming December 31.
At the time, Olsen lied to the press and said that he had other reasons for not attending the meeting. He now admits that, indeed, he followed the instructions he alleges he received from the council member and the staff member and avoided the meeting.
The issue was anti-development activist and Olsen ally Ellen Brennan's appeal of the Architectural Review Board's approval of the project. As with all appeals, Brennan's needed four affirmative votes and it was unlikely Brennan could win. But if approval could be delayed beyond December 31, Maguire would lose its development rights under a 1990 development agreement with the City.
Without the development agreement, Maguire would have to start over. Not only would the value of Maguire's property be less, but all of this took place shortly after the City decided to buy RAND out of most of its nearby property.
There were some City Council members who expressed the hope that the Maguire project would die, giving the City the opportunity to buy Maguire's land as well, or at least replan its use in the context of the plan for the whole Civic Center.
Sure enough, there was not a quorum at the October 27, 2003 Planning Commission meeting to discuss the matter. Although four commissioners attended, one of them, John Zinner, had previously indicated that he would have to recuse himself because of a conflict of interest, and the matter was postponed.
Three commissioners failed to show: chairman Ken Breisch, who was at a conference in Atlanta on a previously scheduled and announced trip, Olsen, who now admits that he skipped the meeting on purpose, and Darrell Clarke, whose said that he was ill.
Both Olsen and Clarke voted against approval of the project's design when the Commission heard the matter a week later, on November 3.
In the political context, orchestrating the lack of a quorum is a legitimate move. That's why a number of Democratic Texas state senators have been hanging out in New Mexico lately. But when the Planning Commission hears an appeal from an ARB ruling, it sits in a "quasi-judicial" capacity, and purposely preventing a quorum has serious due process implications.
At the time, there were rumors not only that both Olsen and Clarke chose not to attend because of instructions from a city council member, but also that a third commissioner, Susan White, attended the meeting despite receiving the same instructions.
About a month later, White resigned from the Commission, citing a heavier workload. There were more rumors, however. Rumors that she resigned because she resented the pressure she was receiving from council members, pressure that went back to when she had been on the ARB and Council member Ken Genser, as the ARB's council liaison, had pressured her to vote his way.
I don't normally report rumors, but since Olsen told Holbrook that he and two additional commissioners received instructions not to attend the October 27 meeting, those 1999 rumors now have more credibility.
Credibility, of course, is what Olsen lacks. Since he's still not willing to come clean about all that happened, one has to take what he says with several grains of salt. He says that a staff member told him not to attend the meeting, but planning staff recommended denial of Brennan's appeal, and approval of the project, and absent specific information, there is no reason to believe that staff was being disingenuous.
So unless Olsen is going to be more concrete, it's hard to verify what he says. Until then, it's reasonable for the rest of us to speculate based on what's in the public record.
A public record that includes Genser's telling The Lookout that the idea that Olsen failed to attend the meeting to prevent a quorum was "b.s." According to Genser, he told Olsen to attend the meeting. "You gotta be there," he said he told Olsen. He said he expected Olsen and Clarke to be at the meeting, along with White.
Genser also said after the November 3 vote approving the Maguire project that he had "expected Susan [White] would be better on that issue." White voted in favor. I wonder if White felt the wrath of Genser after that one.
Clearly, based on what Olsen now has admitted, Genser was mistaken about the "b.s." part. Whether Genser lied to The Lookout about what he told Olsen, or whether Olsen lied to Genser about why he missed the meeting, is between the two of them. But in any case, "b.s." is no longer "operative" -- at least in this context.
Of course, it is possible that Genser did tell Olsen to attend the meeting, and a different council member told Olsen not to attend, and Olsen withheld that information from Genser.
I can understand why Holbrook and the police are reluctant to disclose the names of those Olsen has accused, absent real evidence of wrongdoing. But the effect of this is yet another smear, a compounding of Olsen's unfortunate habit of making vague accusations, without having the courage or integrity to be specific. Vague accusations that people -- such as the unnamed staff member -- can't reply to and can't refute.
Of course, it's ironic. When Genser orchestrated the appointment of his political protegee Olsen to the Commission, all they could talk about was how planning staff and the old commission made decisions "behind closed doors" and "rubber-stamped" the plans of developers, and treated residents who appeared before them with disrespect. When he was on the Commission, Olsen obsessed about the sanctity of the quasi-judicial function.
Now we learn that the only specific bad conduct he has pointed to as "corruption" -- his word -- was to serve the purposes of his own no-growth community.
In the meantime, with Olsen off the Commission, sanity and courtesy are returning. Last week the Commission approved a good mixed-use project at 19th and Broadway, and utterly rejected the complaints against drinking at the Viceroy Hotel brought forward at tremendous cost to everyone concerned by Stephanie Barbanell, a favorite of Olsen and Santa Monica's own Carrie Nation.
So it's tempting not to look back, but I'm still curious about what happened back then in 1999.
Meanwhile, Maguire built its building. It's a modest four and a half story job, with bland architecture, a typical survivor of the Santa Monica approvals process. Notwithstanding the claims of no-growthers that the building would be massively out of scale, at least it sits well on its site, helping to give definition to massively wide Ocean Avenue.
It hasn't caused gridlock. Here's a picture: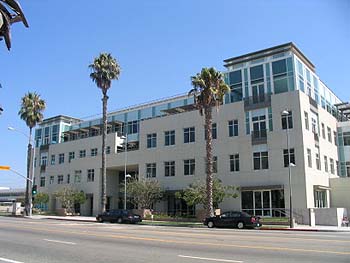 Related Stories:
Lack of a Quorum Delays Key Planning Commission Vote, Oct. 29, 1999
Key Project at Civic Center Weathers First Round of Appeal, Nov. 5, 1999
Officials Conspire to Kill Project, Developer of Civic Center Site Alleges, Nov. 8, 1999
Susan White Resigns from Planning Commission, Dec. 10, 1999